How To Add Events to Your Facebook Page
By Matt Dowgwillo - Mar 29, 2017
Want to add other events on Facebook and promote them as your own?
ThriftyHipster sponsors a lot of events, and so I'm pretty excited about this newer, less talked about, feature to hosting events on Facebook.
Problem was: YOU couldn't support it as you'd like, without recreating it on your page…. and then there would be multiple 'facebook events' for the same 'event.'
Want update everyone or make a change? You had to do it on each one.
Want to harness collective "sharing"? Tough luck.
There are 2 scenarios that this will be most common, and the process is the same.
FOR A BAR: A band/DJ/Promoter is pushing an event that you are hosting…
FOR A BRAND: You are sponsoring an event at a client/venue…
—> Point is: Someone Else has already created this event!  
YOU want it on your facebook page.
For a Bar or Brand, this means you can quickly help promote the events you are hosting, but are promoted by outside companies, promoters, DJ's, brands, or bands.
HOW TO EASILY ADD PROMOTER'S EVENT TO YOUR VENUE'S FACEBOOK PAGE:
This has so many implications for branding, building up the event, and using the share power of social media it's unbelievable this was just done in 2017.  It takes about 3 seconds, so….Enjoy!
Step 1: Go to the Facebook Event Page
Simply go to the event you want to add to your page. At the very top of the event, you'll see the "GOING/INTERESTED" buttons, as well as SHARE and "…".
Click the "[…]" button.  In the Pop-Up, click "Add to Page"
Step 2: Go to the Facebook Event Page
Next, you'll want to just select the Page you want to share to.  Facebook will give you the option to share to any pages you are Admin/Editor of.
Simply choose the Page you want to add the event to.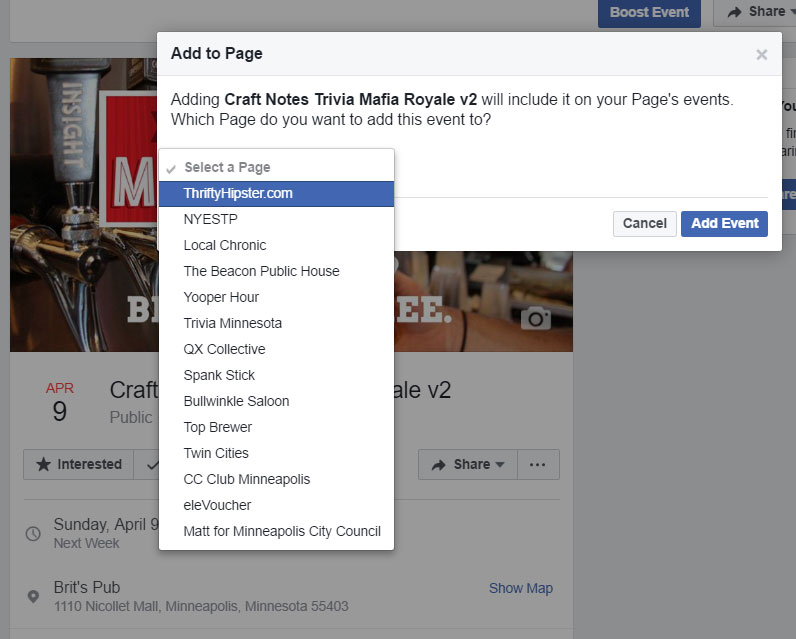 Step 3: You're Done.
Well, technically there is no step 3, because now the promoter's event is on your page.
Once it's there though, you can share it to your fans and promote it as if it WERE your own!
– Here's the Deal –
3 second fix to promoting events. Nice.
---