Cafe Racer's Food Truck-Inspired Happy Hour
By Mark Rosenthal - Apr 30, 2019
Café Racer Happy Hour Menu Review Summary
Fresh, food truck inspired, Latin-American fare. Café Racer was recommended to us by a couple of regulars that like to start their Saturday mornings here. We went on a Sunday during the 2-3 p.m. happy hour and had an exceptional experience. The happy hour consists of light tapas and the OG food truck menu. We have only good things to say.
Café Racer is located in the Seward neighborhood, just north of the Longfellow and east of Hiawatha on 25th St E. What started as a food truck touring the Minneapolis area, has now grown into a restaurant and catering service. We love to see local success like this, and it usually is a tell-tale sign of quality and service.
TIP: Cafe Racer is just a few blocks off the Greenway! Try biking there…
Sampling the Happy Hour Menu…
Columbian Street Dog 
I could have 3 of these, who can get this into Target Field?! Voted City Pages "Best Hotdog" in the 2018 Best of the Twin Cities issue, this is more than just a hot dog with toppings.
We went with the beef option, which comes on a soft bun with sriracha aioli, cilantro aioli, crumbled chips, pico verde, pickled sweet peppers, and queso. The 2 aioli's, crunch from the chips and sweet pickled peppers make this an untraditional dog and it exceeded our expectations. Also, queso.. enough said.
Create Your Food Truck Entrée
(2 variations) – You can pick your combination. We are just sharing our selections.
Braised Pulled Pork
with Sazon Rice w/ Pico Verde and Sweet Plantains & Queso
The pulled pork is done right; juicy, tender, not crazy spicy but very flavorful. The pork is topped with the 2 aiolis, pickled red onions, and pommes frites for a little added crunch. The sazon rice is simple but a nice addition to this plate, topped with fresh diced onion and a little cilantro. The sweet plantains were my favorite part of this dish, they are sweet and soft, golden brown and a nice way to mix it up a bit from the spice on the rest of the plate.
Roasted Pulled Chicken
with Yucca Frita & cilantro aioli and Black Beans & Rice w/ pico
The pulled chicken comes out similar to the pulled pork with the same aioli and onion garnish. The chicken is white meat only and slightly milder than the pulled pork. Black beans and rice is a classic side for this plate and is well executed. The yucca frita was new to us and described as similar to steak fries, this is very accurate, served with a side of cilantro aioli for dipping.
CAFE RACER KITCHEN
Minneapolis Seward Neighborhood
2929 East 25th Street, Minneapolis, MN 55406
Cafe Racer Website
Café Racer is a restaurant that we can't wait to go back to and try more of the menu. We went for brunch and had just missed it. But with food so fresh and interesting we were very happy to try something new. Can't wait to catch the food truck at a brewery or event this summer!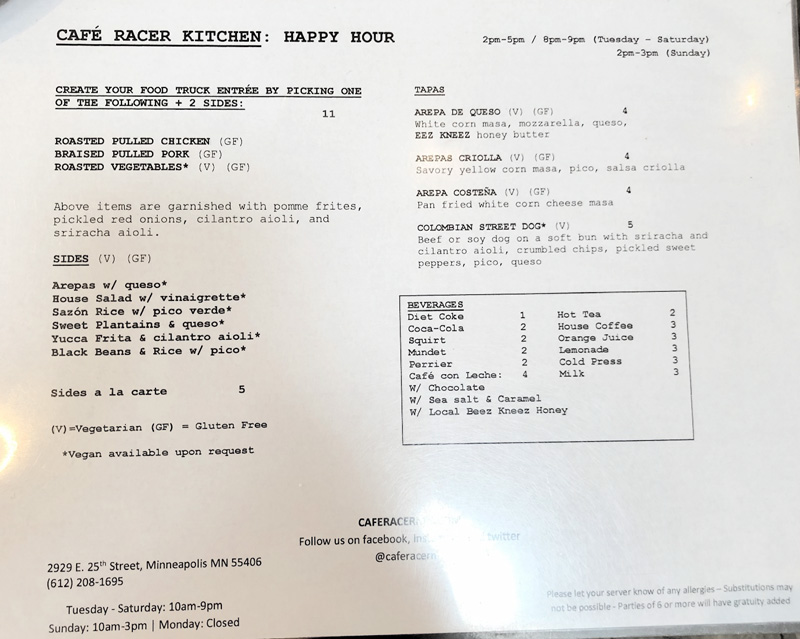 $11 Food Truck Plates
Tapas < $5
B-O-G-O Drinks


Locally owned
Fresh Latin American cuisine
Hand-made space inspired by food truck
– Here's the Deal –
Cafe Racer is a small, chill, friend-run Colombian restaurant packing in comfort and great value
---