Chatterbox Happy Hour: Delicious Food & Great Beer
By Mark Rosenthal - Mar 5, 2019
Chatterbox is one of my neighborhood happy hour favorites in Midtown/South Minneapolis.  You will see their blue awnings outside advertising the cold beer, food, pool, and darts.
Chatterbox has always been a place to have fun; they've always had video games (your Atari and Sega classics included – $1!), board games, and classic bar games free for you to use. We sat on the bar side and came for the beer and appetizers (maybe just a few beers before laying into Tetris?)
I love Chatterbox for those nights when you want something chill to do, with a few drinks:)  Safe, classic, American style food, crispy pizzas, and Mac & Cheese make it a place everyone will find something they want.
Chatterbox Happy Hour
Currently: Daily from 3-6 PM and 10pm-Close (VIEW UPDATED HAPPY HOURS )
Half off ALL draft beers – This is really a killer deal as the beer menu at Chatterbox is diverse and crafty; 1 of the first bars in the Twin Cities that was really focused on craft.
They had a featured beer menu "Go Big or Go Home: Exploration Series 18" going on at the time, this is a 14 beer list of "high gravity" brews which all have higher than average ABV levels. They also have an awesome rotating beer list with all the other IPAs, Sours and other styles you would hope to see on a craft beer menu. With these two menus, its certain you will find something for you.  And for happy hour, they are ALL HALF PRICED!
Happy Hour Appetizers 
We had a party of two people, so we weren't able to get everything on the appetizer menu. But we did try 3 of the happy hour items, and they were great! Below is what we had.
Spinach & Artichoke Dip: $7 for happy hour.
The spinach is nice and leafy so it still makes you feel like you're being healthy. The artichoke hearts are chunky which is nice, and this plate comes out pretty fast! We also enjoyed the juicy sliced tomatoes mixed in.
Chicken Quesadilla: $8 for happy hour.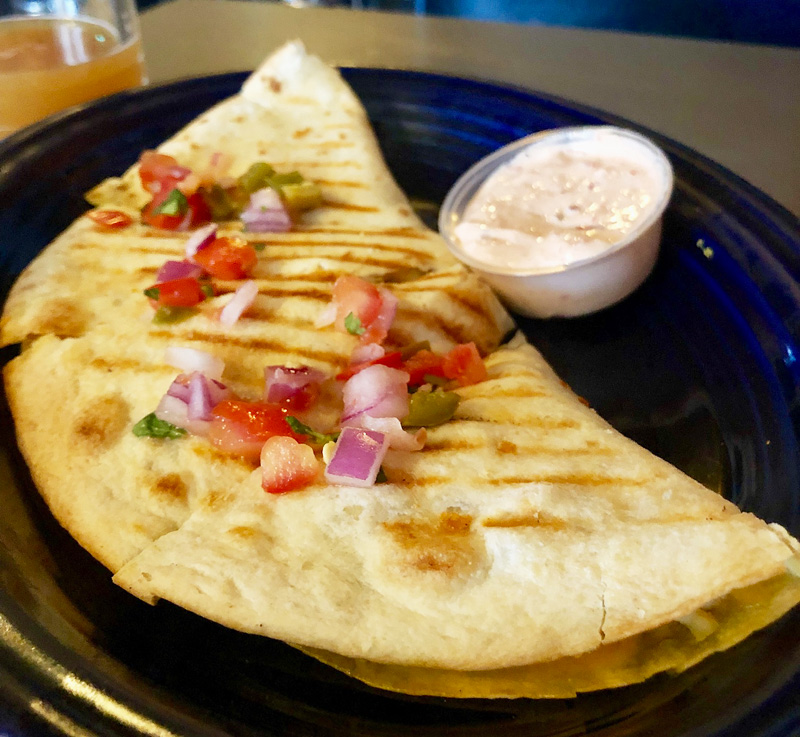 Classic quesadilla, nothing out of the ordinary. The roasted chicken makes this quesadilla hearty, we also opted to add jalapenos. Comes topped with a bit of veggies and a side of roasted red pepper sour cream. Enjoy this one solo or shared, you cant go wrong.
Smokin' Wings: $8 for happy hour.
These are smoked in house, which right away caught our attention. The sauce of choice for us was the house buffalo, and it was absolutely smackin'! This is a buffalo sauce so expect some heat, but is not too much heat that you cant enjoy the smoke on the wings.  Comes with a standard side of ranch or blue cheese and big thick stalks of celery. Classic.
CHATTERBOX PUB
SOUTH MINNEAPOLIS
2229 E 35th Street, Minneapolis, MN  55407 / 612-728-9871
Visit Website

Half off draft beers deal
Great shareable apps under $10
$2 off bottles, cans, wine and cocktails.


Games galore
Weekend breakfast specialties
Event nights
– Here's the Deal –
Chatterbox is a fun, whimsical place to hang on a random night you need something to do, and the great happy hour pricing leaves you with a buzz and happy night, not empty pockets.
---