Copperwing: MN's Newest Distillery Opens in Saint Louis Park
By Matt Dowgwillo - Mar 6, 2017
Copperwing Dream Team
Decade-old friends, and long-time homebrewers Chris Palmisano, Kyle Kettering, and Brian Idelkope pooled their resources, got their wives working over-time, and have come up with a super unique distillery based out of Saint Louis Park, MN.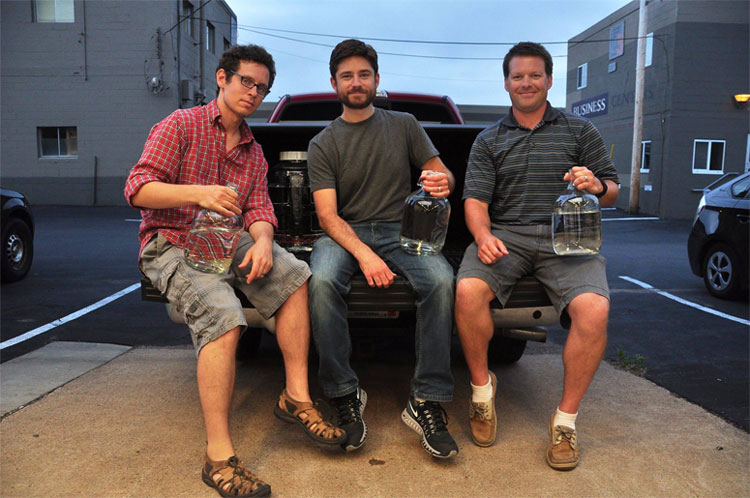 ---
What's the number #1 thing most people want?
It's to leave their corporate jobs behind. Work with friends. And just enjoy life a little more.
Personally, I've lived that dream, and I can support others when they make that step. And I think I speak for all aspiring self-employed-ers and thirsty Minnesotans when I say, "Welcome" to the new Copperwing Distillery!
Copperwing Distillery is a true local business.  The 3 owners/friends and their wives met a decade ago; engineers and neighbors with kids the same age.  And for the last 3 years have been working on the product development, sourcing local corn, navigating the extensive laws of St. Louis Park, and crafting cocktails through tireless product testing.
The opening is a group effort.  All 3 partners and their wives were heavily involved, from crafting the product, to making their own stills, to the interior design of the tasting room.
Head distiller, ex-mechanical engineer Kyle Kettering is Copperwing's 1st full-time employee, distilling and honing his craft full time.  His other partners, Chris and Brian are hoping to join him soon.
And while the journey hasn't been easy, Chris assures me that he already loves his decision to do it in Minnesota.   "I love the communal atmosphere of the whole program" he said.  "Many of the other distilleries (noting Du Nord and Tattersall) have been very helpful; giving advice, inspiration, and support…"
Copperwing Distillery's Spirits
The spirits (with a whiskey focus) are entirely Copperwing's invention, whereas their tasting room's cocktail menu was developed by Big Watt.
Hand-crafted Spirits made in Hand-crafted Stills is what Copperwing is all about.  And the team has traveled the country, even visiting distilleries in Kentucky in an attempt to learn the process better.
Copperwing Distillery intends to be a Whiskey distillery, making all their spirits with a bourbon, corn-based mash.  They want to continue to evolve and release Single Malts and Rye Whiskeys in the future.
Copperwing's distillation process is a little different than others. Most distillers run a complicated filtration process intended to take out oils and particulates, however, Copperwing has found that by leaving them in, they can create a more unique and smooth product.
Copperwing will open with an array of spirits and hope to offer a few bottles available at their opening and soon to liquor stores.
You'll get to try them all soon! Opening Party Weekend is March 11, 2017.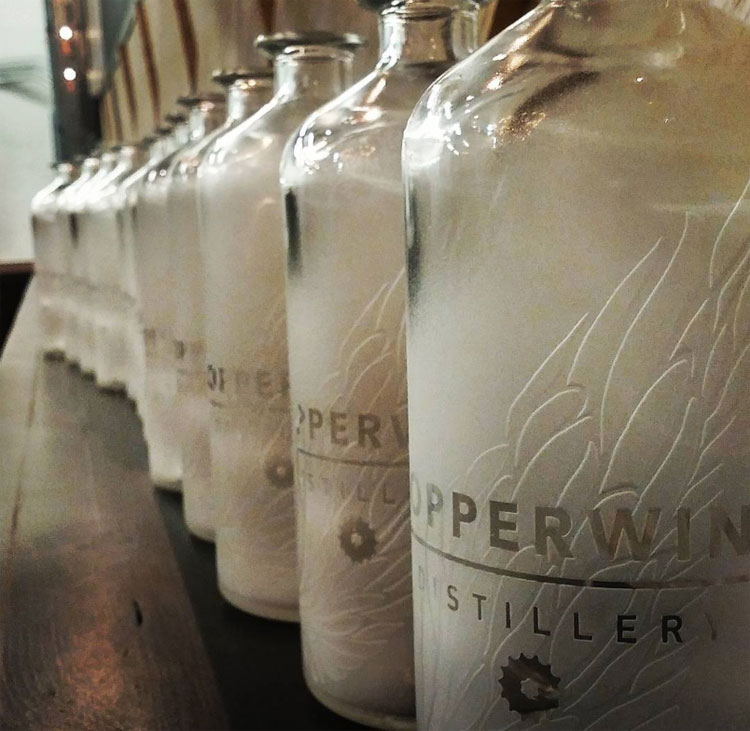 WHISKEY
I guess there are some benefits to taking 3 years to open.  Copperwing is doing what other can't; they'll be opening with their own lightly-aged whiskey.
"VODKSEY"
Copperwing is trying to make a name for themselves by creating a very unique product.  Vodskey is a product totally unique to them. Made as an accident in their 1st attempts at a good whiskey, they stumbled upon this neutral, but not as refined spirit.  It's unique and retains the sweetness of the corn. "It was our friends' favorite; it's SUPER SMOOTH," Palmisano said.
There will be a vodka, a light aged whiskey, a whiskey made from a bourbon mash, and a "vodskey," which Palmisano describes as a vodka-like product that's sweeter, smoother, and more nuanced than a traditional vodka. A gin will be coming soon, with hopes of the spirit being in the cocktail room by summertime. Each spirit is distilled to be approachable, smooth, and flavorful.
COPPERWING TASTING ROOM
Located in St. Louis Park next to Warehouse Winery, the Tasting Room promises to offer a host of classic cocktails and a seasonal menu.
The cocktail program was developed with Five Watt Coffee (some crazy craft-coffee-mixologists), using Big Watt Cocktail Bitters and coldpress coffees.  It looks like a pretty killer menu, and I really like how they limited it to 12 items; making sure each is perfect.
Check out the guys making a stellar Old Fashioned.

---
COPPERWING DISTILLERY
SAINT LOUIS PARK
6409 Cambridge Street, St. Louis Park, MN 55426  /  612-293-6157
Web / Instagram / facebook / twitter / ThriftyHip
---