Eden Prairie's Very Own Craft Distillery
By Lauren Garin - Dec 3, 2018
No, you are not in the wrong place.
Yes, it IS hidden in a business district building complex.
No, you won't forget the cocktails waiting through those doors!
A short drive to the Eden Prairie lands you at the Flying Dutchman Distillery, full of hand-crafted cocktails and passionate people making the best, highest quality spirits in Minnesota.
"My favorite is when we can see guests sitting in the parking lot out front and they call us to confirm they are in the right place and that we are open. We start waving out the windows from the bar and say 'Come on in!'"
– lead Bar Manager, Jayne.
As you enter the doors there are cozy chairs to sink into and plenty of seating to gather you and your friends around. Aeronautical charts of Minnesota and flags from around the world decorate the walls. And how do these two elements tie together? Well, just ask anyone from behind the bar and they will tell you a few good stories about the cocktails and adventures!
**THRIFTY TIP**
Want a free cocktail? Flying Dutchman Distillery is featured in
Craft Notes v2
. Buy the book, bring it in, get a complimentary drink. BAM!
Flying Dutchman Distillery Founders
Flying Dutchman was founded by Brandon, Jim, and Scott, all who are pilots and Dutch (see where the name Flying Dutchman comes from?). From their many adventures abroad, they recognized that one of their favorite ways to learn about a new place was to experience their local spirits and cocktails.
"We were looking to do spirits differently and honor our Dutch heritage and from the very beginning, we were looking to explore bottling our own spirits."
– co-owner Brandon shared. This is a large undertaking for a distillery and after less than a year of being open, they now produce gin, rum, vodka, and their fan favorite, blue agave.
Flying Dutchman Spirits
Flying Dutchman boasts 1 of the most technically advanced distilleries in Minnesota. They're making spirits the right way, using traditional distilling methods and recipes honed by their expert Hungarian partners at Haygo Distilling.
Point is: Everything is dialed to the T. Consistent, AWESOME spirits are the result of all the gear, computers, and partnerships.
Blue Agave (Tequila)
(Technically, it's tequila, but they can't call it that due to insane Mexican tequila laws). – It's made with 100% imported agave.
RUM
Made with sugarcane, the way it was supposed to.
GIN
A true London-style dry Gin that is Juniper forward with notes of rosemary, olives, basil, and thyme.
VODKA
So smooth (don't miss the simple Vodka Martini!) you won't believe it's 80 proof.  Made with local potatoes and corn.
Flying Dutchman Cocktails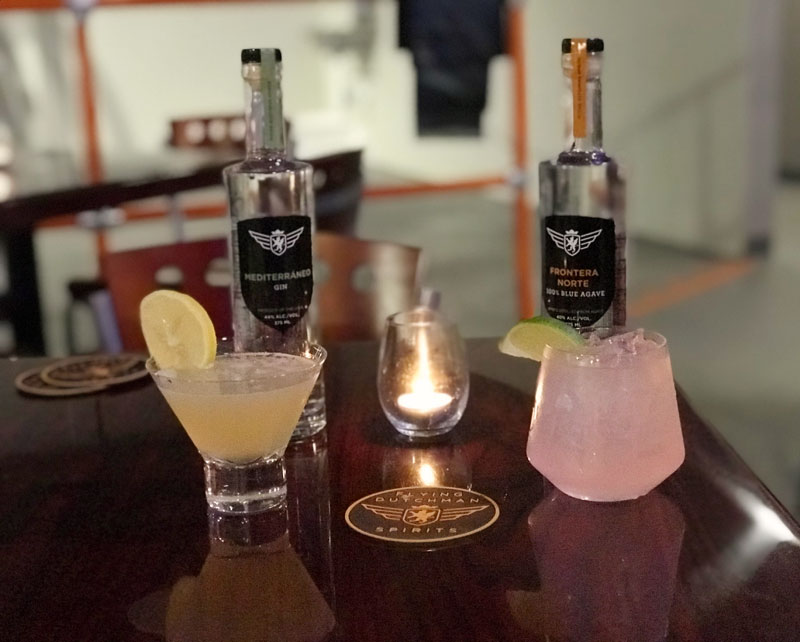 Jayne is the Bar Manager and I had the opportunity to talk with her about the many crazy travel stories of the owners and her own background in the cocktail world.
"I worked at country clubs for many years and I am new to the spirits scene, but I like being on the cutting edge with cocktails. Bringing back the drinks your parents had." I asked her what her favorite part about her job at Flying Dutchman was and she excitedly replied, "Everything is made from scratch! It is all made in-house. We had a drink on the menu last year that was a Winter's Jam drink had homemade pear jam in it that we literally made with our own hands."
It is no surprise that their #1 selling cocktail is their Gin and Tonnie! Other favorite cocktails include the: Gimlet, Mai Thai, Paloma, Chupacabra and the newly released White Russian.
Cocktail 1: Bee's Knees
If you're looking to try something a bit sweet with no sting, this drink is for you! The breakdown: Gin, honey, lime. A delightful shade of yellow and accented with a slice of lemon, this cocktail hit just the spot on a chilly MN winter day.
Cocktail 2: Paloma **FAVORITE**
Jayme's favorite, this cocktail has a touch of sour and pink. The breakdown: Fresh squeezed grapefruit and lime juice, grapefruit soda, and Blue Agave. You have to try one of their drinks with the Blue Agave as it's one of their famous in-house bottled spirits.
Cocktail 3: White Russian
One of their newest editions to the winter menu, this is a can't miss this season! The breakdown: House made coffee liqueur and vodka. Keep it simple and delicious!
Events & Happenings at Flying Dutchman
Weekend Live Music, Weekly Yoga & Fondue
Live music draws a crowd nearly every Friday and Saturday night at Flying Dutchman Distillery. With a wide range of genres, you will definitely want to come back again and again.
**Thrifty Tip: Free Bottling parties**
Grab some friends and bottle spirits alongside the Flying Dutchman crew. A fun activity to get out of the house in the winter! Free live music.
They also offer weekly yoga sessions in their space and fondue nights!
FLYING DUTCHMAN SPIRITS & DISTILLERY
EDEN PRAIRIE, MN
6801 Flying Cloud Drive, Eden Prairie, Minnesota
952.406.8286
If you're looking to escape the hustle and bustle of the city, want free parking and fantastic drinks and stories, I highly recommend you get over to Flying Dutchman Distillery!
Explore great Minnesotan craftsmen, like Flying Dutchman Distillery with the Minnesota Craft Notes Passport. This craft drinks passport invites you to sample the absolute best local breweries and distilleries.

STRONG, Multi-shot martinis
Try them with Craft Notes


Weekly yoga classes
Live & Local music
Home-made Spirits
– Here's the Deal –
Authentic recipes, simple, traditional drinks, the coolest place in Eden Prairie!
---