Beer Tour at Flat Earth Brewery
By Katie Jones - Apr 18, 2018
My GPS tells me that I have "arrived" but where I'm not sure.  Towering red brick buildings line the sidewalk for a full block and I'm not sure where to enter until I see the bold banners claiming "brewery here!"  I turn into this cove of red brick and enter the historic lair of Flat Earth…
Charming & Welcoming Décor upon entry
The building has nestled itself in the grand old Hamm's brewery, which, since it's inception has always functioned as a brewery when utilized.  The décor reflects this old and new but with an eccentric twist. A thronelike chair greets you with an ornately carved high back and embroidered ivory upholstery.  This is in stark juxtaposition to the rough, pale brick, smooth cement floors, and exposed duct work of the beer hall. The rest of the furniture is hodge-podge, with mis-matched stools, chairs, and sofas that could've been stolen from a 90's suburb.
 As you make your way through the beer hall and to the tap room you'll encounter Nintendo 64 projected on a wall, a small, electric organ, and a children's foldaway playset. Some of the walls are adorned with black and white murals that are clearly professional but resemble drawings you might find in a middle schooler's notebook. Flat Earth has decided on a theme that I've never encountered but feels so much like your grandma's basement: a place where the grand kids can run amok among the old furniture, draw on the walls, and play games – no serious grownups allowed.
Family Friendly Events
Much like your Grandma's house, Flat Earth Brewery and Taproom is all about family.  The children's playset in the corner is being utilized by some little ones, there are dogs lying next to their owners, and three generations are represented at the next table.  
Therefore, it's no surprise that their biggest event is Hotwheels racing. The staff of Flat Earth built ramps to race Hotwheels cars. It's become so popular that they moved it to a Sunday afternoon for young and old alike to join in the fun.  Their other events also lend themselves well to all ages with rotating open mic and open comedy mic nights every Thursday, a monthly local film night, and a Mario Kart tournament. Nintendo 64 is available during taproom hours but this will have multiple monitors and a system of elimination.  
Flat Earth Beers for All
Like their inclusive events, the beer selection at Flat Earth will please most palates.  No matter the style the beer here is clean and light without sacrificing bold flavors. The seasonal "Loyalty and Honor" is a great example of this. A murky oak color this beer has a bold peppermint aroma and taste to match.  I couldn't even really taste typical malty beer notes in it, and the peppermint started to sit at the base of my throat after a few sips. Additives like peppermint can sometimes come off as syrupy and cloying but this finishes fresh.  This is also true of my two favorites of my visit, one standard and one seasonal.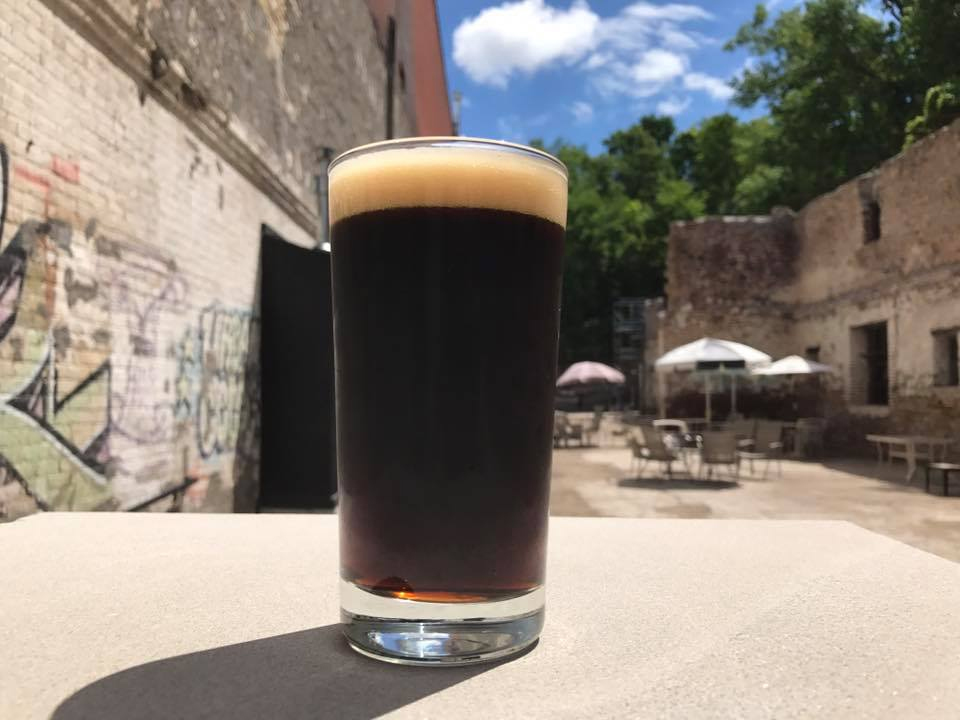 FLAT EARTH'S BELGIAN STYLE PALE ALE
The standard beer I enjoyed most was the simply titled Belgian-Style Pale Ale.  It's sweet, clean, light, playful, and had a mouth-watering effect. This drank almost like a cider with a slight spice to it which comes from the Belgian malts (according to the brewery's website.)  All of the standard and seasonal beers hover just above a sessionable ABV (usually between 4-5%) with the Belgian coming in at 5.2%. The combination of flavor and low ABV makes this ultimately drinkable throughout the day or night.  
SEASONAL BEER: FESTIVE VEST
The seasonal I chose as my favorite was similar in flavors but dialed up. Festive Vest is a winter warmer style ale and has spices like those found in a hot cider as well, along with ginger which makes it refreshing in a cold beer. Despite it's stronger flavors, this "ugly sweater beer" as it is so deemed on the menu, only has an ABV of 4%.
OTHER NOTABLE CRAFT BEERS
The only beers I didn't sample were the "High Octane & Specialty" beers which have a higher ABV and only come in 10oz pours.  If a sipping beer is what you're in the mood for these will do the trick. Otherwise, all your other favorites are represented in one way or another.  Honorable mentions include Angry Planet which claims to be "THE" American Pale Ale with a hoppy bitterness and earthy undertones, and Black Helicopter, a Coffee Oatmeal Stout, which still finishes clean despite it's strong dark roast notes.
WOMEN TENDING BEER: HANNAH
BeerTender Hannah Loves Flat Earth Brewing and You Will Too!
Hannah joined the Flat Earth team back in July of 2017, but she was a customer long before that.  Her first visit to Flat Earth was at their old location on the last day before they moved to their current digs.  Then, it just so happened that she moved to East St. Paul and so did Flat Earth Brewing. She "felt at home there" and took a job with them.  This feeling of comfort extends to the clientele. According to Hannah you can regularly see people of all ages, families with kids and grandparents: "It's fun to see everyone that can hang out together."  She states that because of the events, the historical location, and the location Flat Earth seems to draw in a different crowd than you might see in North East.
"It's a lot less intimidating . . . these people are new to craft beer . . . Flat Earth has this great atmosphere for people who are new to craft beer."
 Which is why she thinks you'll see people over 45 (not the typical craft beer demographic) people who've settled down, might have adult children, and can come and learn about new beers without being overwhelmed.
Hannah the BeerTender's Favorites and Thrifty Tips:
Hannah's current favorite on the beer menu is Livid Planet.  This is the stronger sibling of the mainstay Angry Planet American Pale Ale, raising the stakes with more of the Cascade hops.  Her favorite event at Flat Earth is the Hotwheels race which she says are "just packed." There's an announcer, brackets, 30 feet of track, and free to enter.  She loves seeing the energy and of course all of the ages coming together.
Flat Earth Happy Hour & Wild Specials
Flat Earth Brewing is the type of place that doesn't need to hold a happy hour to have a good deal.  You can enjoy all standard beers for $5, all seasonal beers for $6, and the "High Octane" beers for $7.  If you want to get an even better deal, Hannah says, and you're a fan of the Minnesota Wild, you can get $1 off all beers when you wear your Wild gear on gamedays.
Live Entertainment at Flat Earth
Free entertainment, as mentioned prior, is a staple of Flat Earth.  What Hannah enjoys is seeing the rotating open comic mic nights. Many times, the same comics show up and you can watch their progress.  The performers for both the comic and music open mic nights are well taken care of and the music is performed outside on their patio (1 of the best patios in the Twin Cities!) when the weather is good.  
Yes, you read that correctly: Flat Earth Brewing has a pretty magnificent patio area which overlooks St. Paul and Swede Hollow Park which is the original settlement of St. Paul.  A bike trail cuts through this park and during the summer, Hannah tells me, a lot of bicyclists will visit the brewery during their travels.
Flat Earth Brewing Food Trucks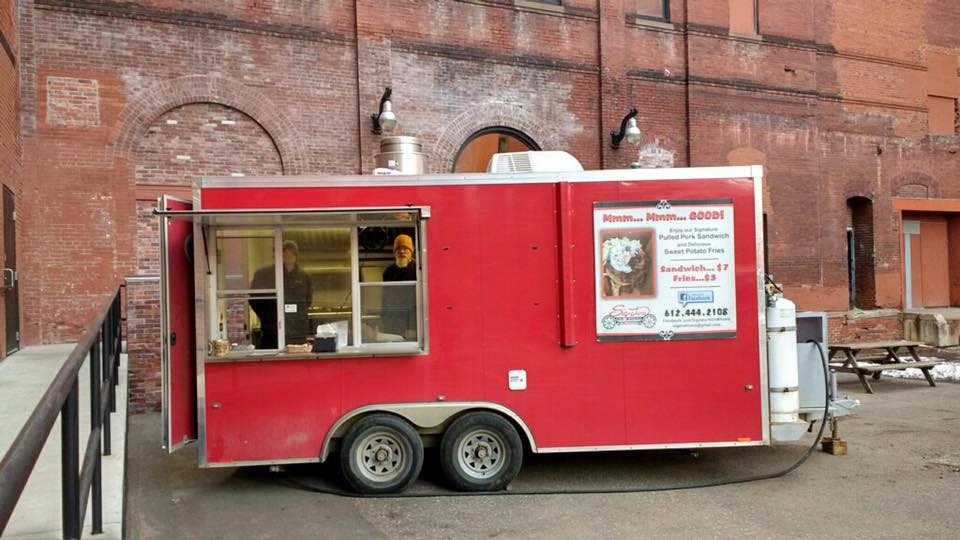 Flat Earth has Food trucks usually Thursday – Sunday and sometimes during the rest of the week, but it's also a great start or end to a night in East St. Paul with local restaurants nearby to visit.  Hannah appreciates this symbiotic relationship between the businesses that build a feeling of community.
With spring creeping slowly toward us and summer on the way you'll definitely want to make Flat Earth Brewing one of your destinations for free, live entertainment and a few beers with all ages of your friends and family too.
FLAT EARTH BREWING
SAINT PAUL, MN
688 Minnehaha Ave E, St Paul, MN 55106
Check them out and get a Complimentary Pint from Flat Earth via Craft Notes Passport:
Order Yours

Free, Ample Parking
Free Events
$5 beers at all times
Food Trucks


Dog friendly
Live Music & Comedy
Phenomenal Patio
Access to a State Park and biking trails
– Here's the Deal –
Flat Earth Brewery embraces it's community with it's eclectic, family friendly atmosphere and events and pairs it with excellent beer for all palates.
---