Gray Duck Tavern Happy Hour
– A Top Pick for Value & Unique Bites in St. Paul –
By Mark Rosenthal - Jan 24, 2019
In the historic building which was once the former Lowry Hotel, through a beautifully refurbished lobby, you will find the The Gray Duck Tavern.
The decor and menu are very sophisticated, but still approachable for all; The Gray Duck is definitely not a sports bar, but you won't feel too overwhelmed either. Quaint Perfection.
The staff is kind and very willing to accommodate any needs your party may have. We came as a party of 3 and tried almost every happy hour appetizer (and then some).
The Gray Duck Tavern is in a convenient location right off of Wabasha St. and very close to some other attractions in St. Paul like the Science Museum or Xcel Energy Center.
– map
GRAY DUCK HAPPY HOUR (3-6pm & 9-close)
The small happy hour menu is simple and creative and has something for one or many to enjoy.
The Gray Duck Tavern offers a fantastic and chic after work or late night happy hour special (especially awesome for later eves in downtown St. Paul – see also
The Handsome Hog
).
I will be back soon and recommend this happy hour to anyone in the area at the time.
The group agreed, these were the best: (favorites listed 1st)
Tamarind Chicken Wings
Happy Hour Price: $8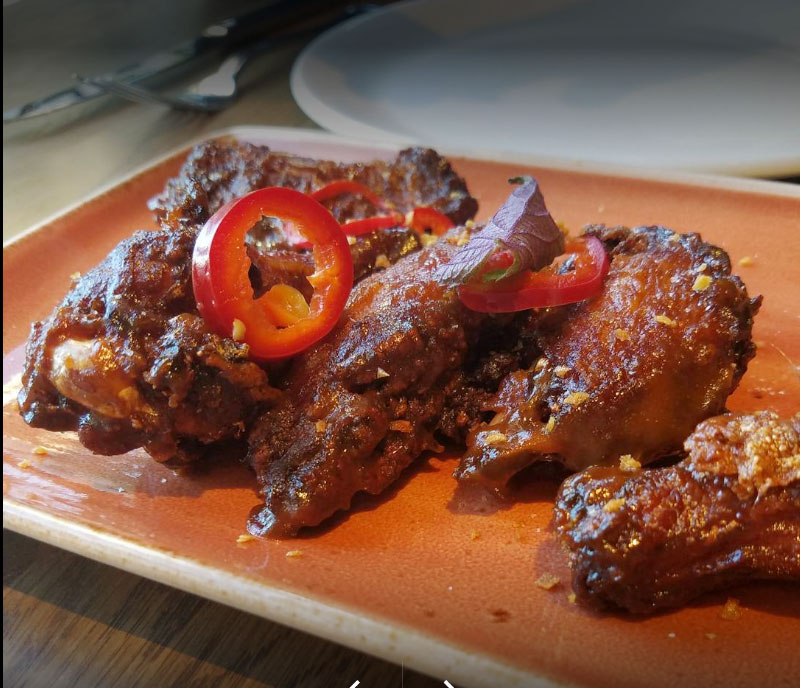 The collective favorite of all the happy hour food menu items from our table.  I also think the wings are the best bang for your buck, if you were planning to get only one thing.
Gray Duck's chicken wings are not overly spicy and have a citrusy tamarind flavor. They come topped with red peppers which are a nice touch if you need an extra spice kick.
East African Samosa
Happy Hour price: 3$ per
(Seasonal but very popular dish)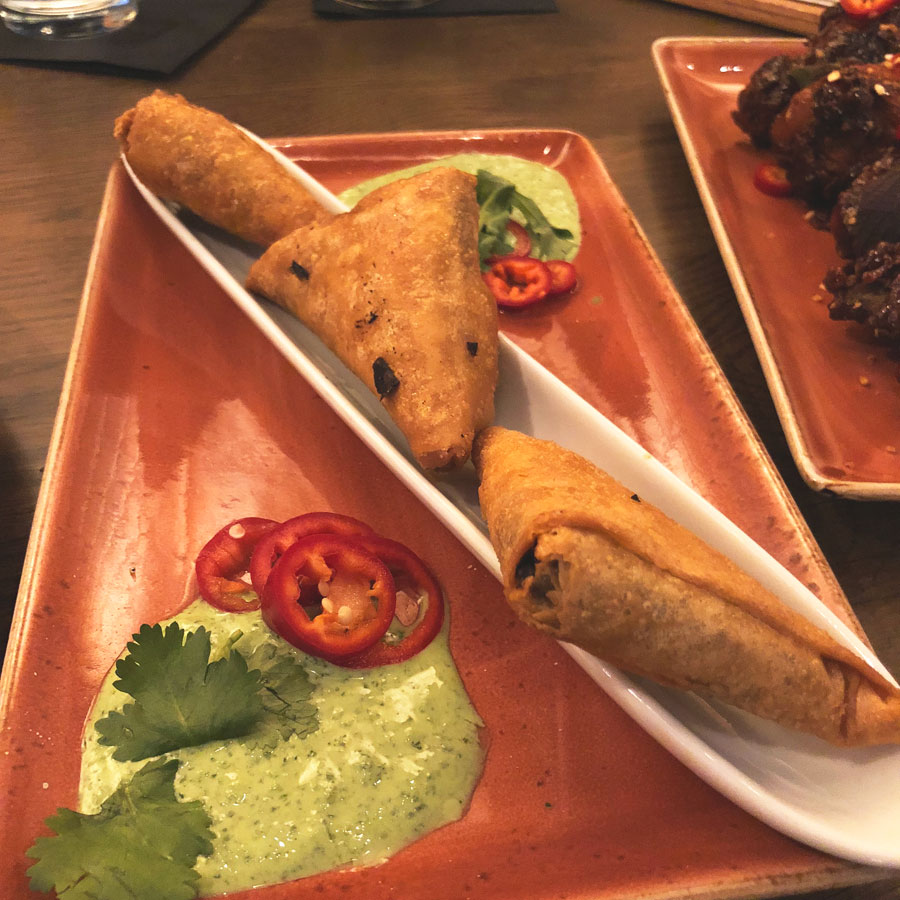 Priced per samosa this is a nice way to get something filling yourself or a few to share. They come out from the kitchen warm with a flaky outside and spiced beef inside. Served also with jalapeño yogurt sauce which really adds a lot (if the word 'yogurt' scares you think of it as spicy ranch).
---
Cuban Cigar (Cuban "Egg Roll")
Happy Hour Price: $3 per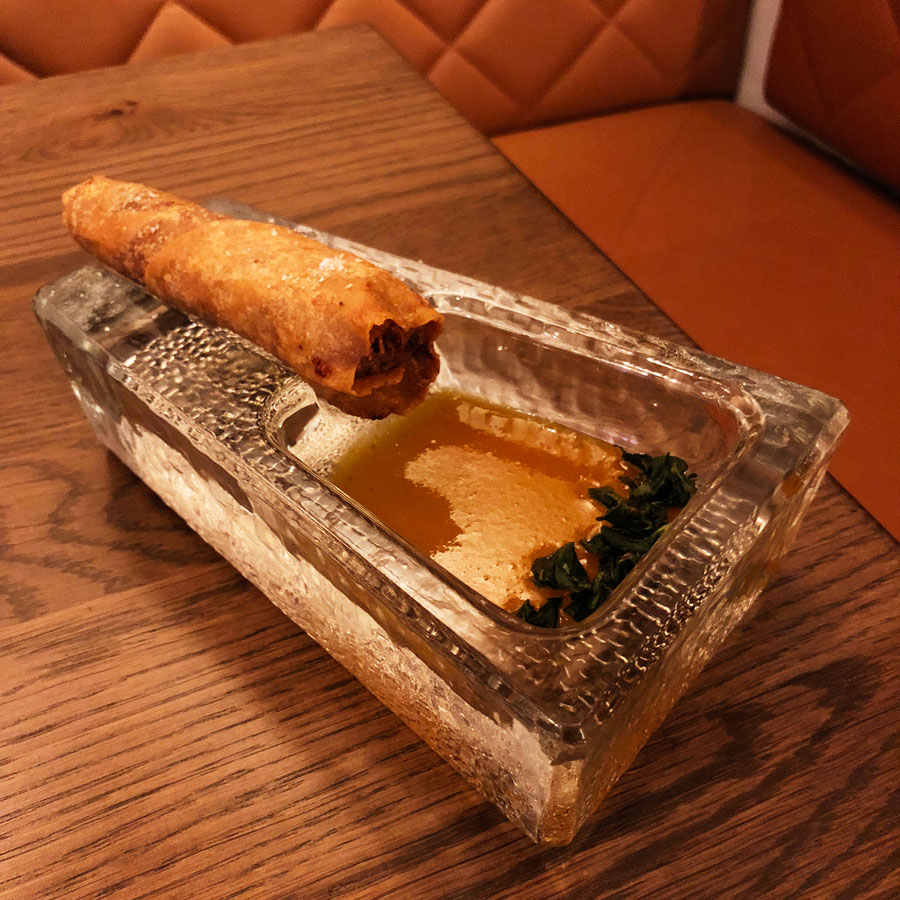 Gray Duck really out does themselves on the cigar theme.  Think of a crispy, more unique Cuban Sandwich. I love the way this one comes served, presented on an elaborate glass ashtray. You could call it a "cuban egg roll", but that would not be as fun. The cigar comes with a side of orange mojo sauce, which is like sweet and sour sauce and is a perfect accompaniment.
House G&T
Happy Hour Price: 6$
The only crafted cocktail on the happy hour menu. Served in a low ball with ice and a lime slice. This cocktail is a citrus forward house made tonic and Greenall's London Extra Dry Gin. Its a fresh take on a classic cocktail. Putting the effort into serving a house crafted tonic is the attention to detail that will make
Gray
Duck
stand out for years to come.
Planning a visit? download our app to always get updated food & drink specials and make sure these specials are current.
GRAY DUCK RESTAURANT
DOWNTOWN ST. PAUL
345 Wabasha St. N, Saint Paul, MN  55102
Current Specials
---
Please share the article with your friends and let us know about your experience on the social webs! (Instagram / Facebook)

Great bites under 10$
6$ Craft Gin & Tonic


Located in historic building in St. Paul
Great interior decor
Close to Excel and Science Museum
– Here's the Deal –
A Top Pick for Value & Unique Bites in St. Paul
---