Heavy + Light: An Installation by Sarah Nicole
By Jack Sussman - Feb 18, 2019
On Thursday, February 21st, St. Paul based Artist Sarah Nicole  will be debuting her solo exhibition at the Sure Space located at 1506 Como Ave SE.
Heavy + Light expresses a multidisciplinary practice heavily threaded together by a strong overarching methodology.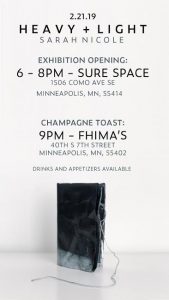 On her site, Sarah states "Through monochromatic watercolors, contemporary painting, poetry, and bodily sculptures, the artist creates an environment that incites stillness and seeks to encourage an inner dialogue about self and others."
Event is free and open to the public. Doors at the Sure Space open at 6:00pm.
Everyone is welcomed to the after party at Fhima's Minneapolis for drinks and appetizers.
– Here's the Deal –
Enjoy!
---