Herkimer Pub & Brewery Happy Hour Review
By Mark Rosenthal - Feb 20, 2019
Local favorite for craft brews & city views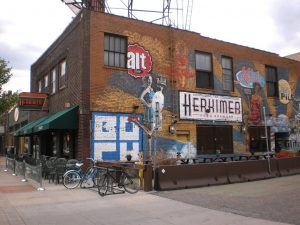 Overview – Our Trip and the Location
Just north of the intersection of Lyndale Ave & Lake St. in the uptown area of Minneapolis. Herkimer is a local brew-pub that has become a staple on the block in the last 20 years. They brew small batch craft beer, have a full kitchen that does late night food options. and have a patio for the summer months. We came with a party of 2 this time for the mid-day happy hour.
About – What Herkimer has to offer
Herkimer runs two happy hours times, an afternoon and late night.  See below what the happy hour menu looks like. We think the "$10 after 10pm" deal is superb. (Check Nightingale out after if you are looking for a nightcap.)
Food –Here is what we tried and were recommended.
House-Made Pizza Rolls – This is a great sharable snack. They are much better than the frozen ones in the yellow bag. Really, it's not even close.
The Spent Grain Pretzels – Herkimer brought back an 8-year veteran to be their dedicated pretzel twister, the man has got this down. Comes with both warm queso and jalapeno honey mustard.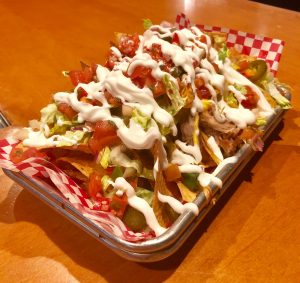 Half Nachos – This may be a half order but was plenty for two to share. You can add any of their protein options, we went with the pork shoulder. Also, these have cheese curds on them!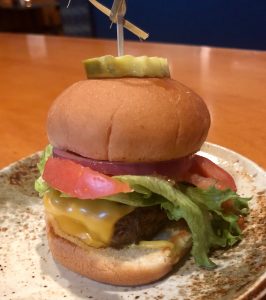 Mini Cheese Burger – Don't let the mini fool you, this is a sizable little burger. We really like that this is a part of the "$10 after 10pm" deal that comes with 3 of these, fries, and a pint of brew.
Drinks – We wanted to try the beer, since you know.. it's a brew pub!
Handys Lager – This is a collab with the sister restaurant Moto-i a couple doors down. They use the saek rice to give a minimal bitterness and a bit of malty on the end making it an American Lager that's a nice easy drinker.
Social Oil Continental Dark Lager – This is a limited once a year Dark Lager and was a favorite of our server. Almost gives a stout feel with a bit of hoppy, but smooth throughout. Really enjoyed this one.
Ripcord Blonde IPA on Nitro – The nitro on this one gives it that creamy mouthfeel to start, keeps it like like a blonde ale, but doesn't miss the juicy hop of an IPA. Would be a nice entry level IPA for starters.
Slushbox IPA – This is the hoppy bitter one you might be looking for, but also a session IPA with low ABV so you can throw back a couple on 2-4-1s.
Planning a visit? Download our app to always get updated food & drink specials and make sure these specials are current.
Herkimer Pub & Brewery
2922 Lyndale Ave S, Minneapolis, MN 55408

2-4-1 Beers and Rails
Small Plates under $10
$10 after 10pm Deal


Patio on Lyndale
Local Craft Brews
VIP Loyalty Program
– Here's the Deal –
Local Favorite for Craft Brews & City Views
---