Will Travel for Better Beer
– CRAFT NOTES: INSIGHT BREWING –
By Matt Dowgwillo - Jun 29, 2016
---
CRAFT NOTES HIGHLIGHTS ESSENTIAL LOCAL CRAFTSMEN FOR THEIR CONTRIBUTION TO MINNESOTA CULTURE. 
---
I often picture craft brewing developing in a home brewer's dimly lit basement, looking like a science experiment gone awry,  but the story of Insight is much more worldly. While sipping on a Trollway IPA (then Blackberry Saison), I had the pleasure of speaking with Ilan Klages-Mundt,  brewer and co-founder of Insight, on how his craft came to life.
INSIGHT BREWING HONES CRAFT WITH GLOBAL PERSPECTIVE
"BRINGING THE BEERS OF THE WORLD HOME" is what world-traveler and brewer Ilan strives to do.  Insight Brewing's global beer outreach program helps to not only put Minnesota on the global map for craft beer, but International collaborations expand the local palette and expose us to global products and ingredients.
Plus, their beer is damn good.
HISTORY of the BREWERY
How does a trained classical musician (cello) player come to produce some of the best beer in Minnesota?
The story of Insight Brewing starts in 2007, when then 21 year old Ilan travels to Denmark to study music with Europe's greatest musicians.  And really, like the rest of us, it's all about loving something and dedicating your life to it…
"…I found this top fifty list of beers in the world.

When I was in Copenhagen I went to a bottle shop and asked for the #7 (which was the highest rated danish beer). They didn't have that, but they had #1, a Belgian beer.

When I tasted this beer I had a total epiphany and the sun came out and birds started chirping. It changed my life. When I got home I wanted to learn everything about the world of beer. I started reading text books, talking to brewers and home brewing…"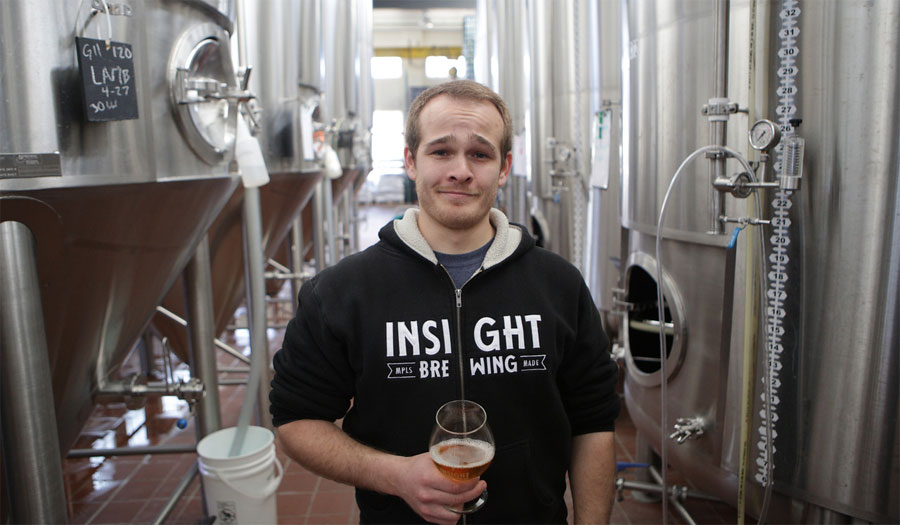 Ilan spent the next 1.5 years putting together a trip to apprentice at breweries, working on farms, and going to festivals.  When he finally arrived he started picking hops in the south of England, biked around midlands to festivals, and worked London's Fuller's Brewery.
That experience gave him a taste for global work and travel.  He moved to Japan to brew both beer and sake.  He eventually returned to Denmark and was hired as a head brewer for Søgaards.  
Everywhere he went he took notes of recipes, experimented with regional ingredients, and was preparing to return home to Minnesota to start a brewery.
Like all good businesses, great timing and luck lay the foundation, and the success of Insight is no exception.
Ilan returned home and met fellow craft beer lover Brian Berge, who was a brand manager at 3M. He had much more experience with branding, marketing and business management.  Brian was looking to make his own destiny, and Ilan's story and skill was a clear jump-off point for a brewery, so the 2 found a 3rd partner, Eric Schmidt, and partnered up.
They tell the brewery's story better than me…
Ilan & Brian talk about working globally and how it improves their product.
MATT: How does travel influence Insight's Beers?
ILAN: We took the story of travel and incorporate it into our business plan. Part of my job is every year, continuing this adventure out into the world and go out and work on collaboration beers.
Luckily, I have a great network we can utilize. Last year I was in England working on two beers and next month I will in Belgium and then Italy.
MATT: Were these connections from your travels?
ILAN: Yes, and actually there is a brewery in Germany (Engel Brewery) that is older than the US, who contacted us to work on a collaboration beer that will be ready in 2017. These beers will be released here an we can really say that we bring the world of beer back. We do the traveling for you. You don't really know how it's done until you go there.
MATT: How do these collaborative beers become available here in MN?
Ilan: We write down the type of water, all the specs of the system, the altitude, the ingredients, evaporation rate and more so it's essentially the exact same beer.  Then we make them at our Brewery.
MATT: So are you more into the science of it that they other guys?
ILAN: It's 50/50 coming up with the idea, then the science of how to bring that idea to life. Music gave me the creative brain to compose new recipes. Science is another passion and I get really excited about how things work. By no means am I a scientist, but I understand the chemistry and mechanics of brewing. There is always more to learn and by no means do I know everything.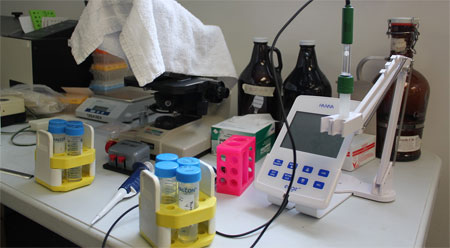 MATT: What kinds of beers were you brewing abroad?
ILAN: Everything! In England, bitters and porters. In Japan red rice barley wine and cedar-aged beers. Denmark is the same as the US as far as pushing boundaries and have similar likes such as session IPAs and imperial stouts. A lot of barrel aging over there.
MATT: Do you think the trends start abroad?
ILAN: I think in today's world it's hard to know. I've heard of some things in Norway before they come here and vice versa. I think it's becoming more homogeneous. Most people are starting to think like a chef. What ingredients can I add to this beer? Go to a farmers market and pick something out.
I think some people would like to know, how did you get hired abroad?
Ilan: I had this set up ahead of time. Three of them as internships/apprenticeships. I worked HARD in exchange for food and and a place to sleep. The lodging was often not that great, but hey if you want to learn…
---
INSIGHT'S BEER
From Ingredients to techniques, stories to graphics, travel and global perspective are what really separate Insight's beers as something special and unique.
FLAGSHIPS
Trollway IPA. Is a local favorite and Insight's leading seller, though Sunken City claimed that title last year.  It's a clean, crisp West Coast Style IPA with citrus notes. More >
Hell Chicken. This Pale Ale is brewed with Yuzu, a Japanese fruit similar to a lemon (which also proved exceptionally challenging to even get here in the US). This super-unique beer is totally unique to anything else you've had.

What's the brewer's favorite beer?  The Lambdon Dragon Session Ale. It's modeled after Fuller's London pride and is super drinkable, light, full-flavored.
---
TRY INSIGHT'S BEER & ALL 14 CRAFT BEERS & 4 CRAFT COCKTAILS…
---
FOR YOU GRAPHIC DESIGNERS; INSIGHT'S BEER LABELS
Insight's graphic designers were not to be outdone by the brewers!  Even their labels tell the story of world travel.
Each label represents historical fiction.  International "fairy tales" and fables; local mythology (and then they make it look really cool).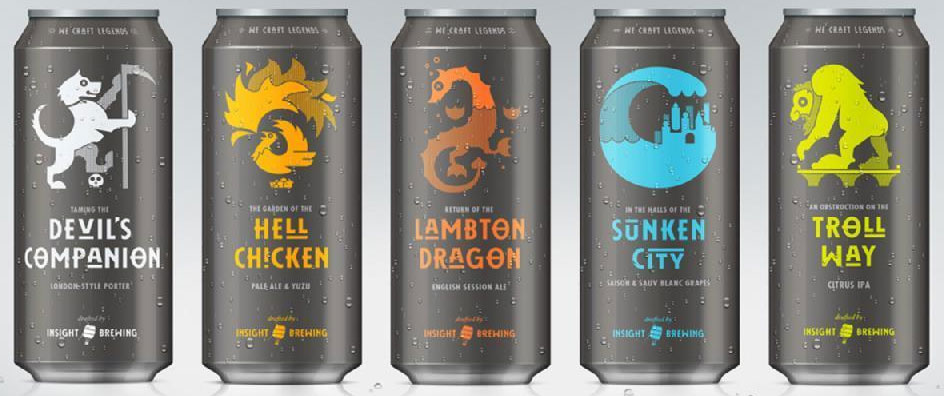 WHERE TASTES ARE HEADING
Insight is not the 1st local brewery to focus on them, but like so many others we talked to, believe the local trend is moving toward Sours.
They will, however, be leading the entire nation soon for Higher Alcohol Beer; seeking to claim the title this summer with the world's leader for beer proof.
We're also looking forward to the collaboration beer Ilan is working on with Germany's Engle Brewery.
INSIGHT BREWING
NORTHEAST MINNEAPOLIS
2821 E Hennepin Avenue | 612-722-7222
BRING THE WORLD'S BEERS OVER YOUR LIPS AND IN TO YOUR BELLY.
Get a free beer from Insight and 18 other Essential local craftsmen with the Craft Notes Guidebook.
DANGEROUS MAN | NORSEMAN | WANDER NORTH | SUMMIT| EXCELSIOR | BENT PADDLE | BENT BREWSTILLERY | INBOUND | MOTO I | TOWN HALL | SOCIABLE CIDER | FLAT EARTH | LIFT BRIDGE | LAKES & LEGENDS | GRUMPYS NE | BITTER CUBE | LAWLESS
---