Most Inventive Craft Cocktail
By Matt Dowgwillo - Nov 15, 2017
I can't say enough good things about Lawless Distilling.
Not only do they make one of my favorite Gins (in their South Minneapolis distillery), but they also make some of the most inventive cocktails, a la Bittercube mixologists.  Every season drinks change, and they are constantly pushing the limits on creativity.
I wanted to let you know about 1 of the most fun, and foodie experiences I've had in a while…and 1 of the most thrifty at a Craft Cocktail place of this caliber.
This is a perfect time to go try them out; best done with a group for this crazy cocktail!
$24/42 Punch Bowl Craft Cocktail (DIY)
For $24/42 you get:
(serves 2-3/4-5)
Crystal Glasses for everyone in your group
Huge Crystal bowl of boozy punch
6 tinctures of your choice
This was the perfect activity for a foodie.  You get about 8 glasses of cocktail each, and we spent the entire night trying to make a better cocktail than everyone else, adding subtle flavors of the tinctures making each distinct.
No 2 glasses were the same, and it encourages you to focus on the flavors and subtleties of each…
1st: Choose Your Flavors
I love this, because you get a bowl of cocktail, then get to craft the experience around your personal tastes.
Personally, my favorites were Hazelnut and Charred-oak. Hazelnut made the drinks nutty and slightly smoother, while the oak gave a heavy nose and light smoky flavor.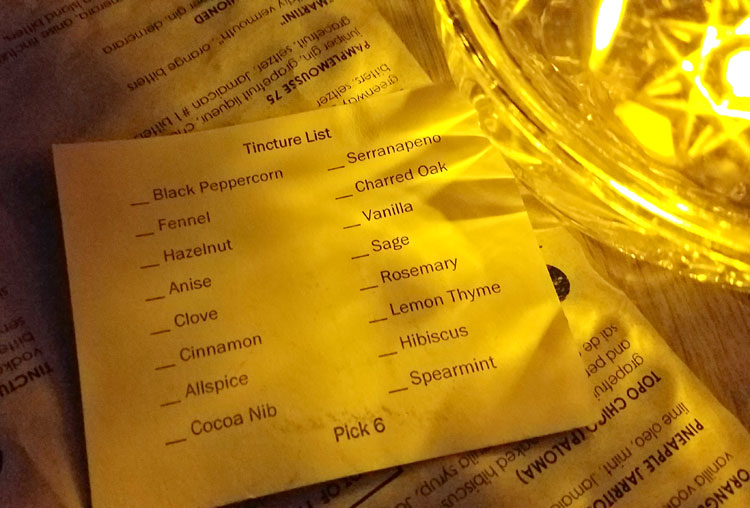 2nd:  Mix your own drinks!
Spoon in your cocktail, pour 1 for your friend, then add single tinctures TO YOUR  GLASS or blend for interesting flavor concoctions.
–THRIFTY TIP–
Lawless Distilling is featured in the
Craft Notes Pub Passport
. It does NOT get you a giant punch bowl, but it IS good on a regular cocktail.
---