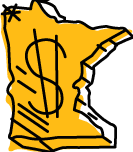 Twin Cities: Free & Thrifty
Super Troopers Hang, Free Beer in NE!
Minnesota Super Bowl Events
3 Must-Eat Spots for Restaurant Week
– Wednesday, 8/15 –
No events found.

Looking to enjoy the Twin Cities on a budget, this is the place! Local insiders help us keep track of FREE events and other activities that you can do on a tight budget, because fun shouldn't have to be expensive. Track the best events, happy hours, and free stuff here.
Load more