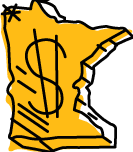 Twin Cities: Downtown
Minneapoilis Healthy Life Expo
Minneapolis is the World's Best?
4 Best Burger Specials in MPLS

Downtown Minneapolis' warehouse district is known for clubs; DJ's, dancing, concerts, Twins Stadium (and sports bars/game specials) and afterwork happy hours, while the North Loop is the newest upcoming neighborhood for restaurants, happy hours, and breweries.  Follow money-saving tips about downtown Minneapolis here.
Load more