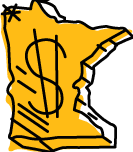 Twin Cities: Uptown
Barbette's 17th Annual Bastille Day Block Party
FREE BLB Pride Block Party is Back!
4 Best Burger Specials in MPLS

Uptown Minneapolis is home to chain of lakes and lots of great bars! Don't miss great drink specials and even better food specials during happy hour! The old "60:40 Rule" means you'll have ample food specials too.
Load more