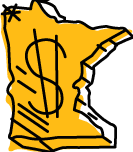 Twin Cities: Best Of
Right Action for Airlines?
Will Travel for Better Beer

Looking for things to do in the Twin Cities? We visit every bar & restaurant in the Twin Cities and tell you what's the best. Best food, best drinks, best fun, best Twin Cities Happy Hours, and BEST VALUE. This is the stuff you should know about, but it hasn't been widely publiscized enough yet. Usually its a sum of friends, musicians, and bartenders that take us to their hood; favorite spots and how to get the best deals.
Load more