Warm Up to the Wind Chill
By Jack Sussman - Apr 18, 2017
When was the last time you saw a handler huck it deep to a jolting receiver? Confused? Welcome to the wonderful world and lingo of the exciting sport, Ultimate Frisbee.   Minnesota's professional Ultimate Frisbee team, the Wind Chill, was established in 2013 and competes in the AUDL ( American Ultimate Disc League). What  began as mainly a Summer camp sport and a way to kill some time between college classes, is now a professional sport along with possibly becoming an Olympic sport.
We invite you come cheer on our home town team during their season. Their home games are held at Blaine National Sports Center along with additional games at Sea Foam Stadium later on in the season.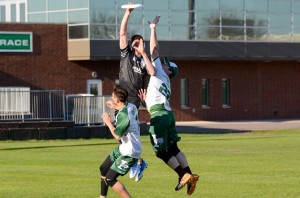 The season opener is this Saturday at 6pm against the Indianapolis Alley Cats. Make sure to bring your enthusiasm and thirst because Surly Brewing, a sponsor of the Wind Chill, will be selling FIVE different types of their popular beer throughout the game.
THE GOLDEN TICKET:
Thrifty Hipster, a new sponsor of the Wind Chill, will be offering GOLDEN TICKETS to games for free admittance to a home game of your choice. 
Home Games:
Saturday, April 22  – 6:00PM (Blaine)
Minnesota Wind Chill vs Indianapolis AlleyCats
Saturday, April 29 – 6:00PM (Blaine)
Minnesota Wind Chill vs. Madison Radicals
Saturday, May 6 – 5:30PM (Blaine)
Minnesota Wind Chill vs. Indianapolis AlleyCats
Saturday, May 20 – 5:30PM (Blaine)
Minnesota Wind Chill vs. Detroit Mechanix
Sunday, May 28 – 1:00PM (Blaine)
Minnesota Wind Chill vs. Chicago Wildfire
Saturday, June 10 – 7:00PM (Sea Foam)
Minnesota Wind Chill vs. Madison Radicals
Saturday, July 22 – 7:00PM (Sea Foam)
Minnesota Wind Chill vs. Pittsburgh Thunderbirds
---