Rick's Cabaret: Lunch Specials & VIP
By Jack Sussman - Mar 14, 2018
Rick's Cabaret is obviously known for being a premier strip club in the cities, and you might be thinking, "I don't have the money for that…" but I can assure you, their happy hour is a great value, and their lunch special is probably the best deal in Downtown Minneapolis (it's daytime playtime)!
Here's what to expect.
LUNCH SPECIALS IN DOWNTOWN MINNEAPOLIS
Rick's Cabaret: $6 Lunch Special + Show 
MONDAY – FRIDAY: 11AM – 4pm
I get it. Lunch in downtown Minneapolis is a big deal. And there are TONS of options, but I've always been amazed at how poor of a deal they usually are.
So you can imagine my surprise when I tell you: the best lunchtime deal in the city is at Rick's Cabaret.
No joke.  It's an adult happy meal that will leave you invigorated to go back to work (or take a late lunch and stay for happy hour, you know, whatever).
$6 Bucks gets you a Burger and Beer (and it's Free Cover before 7pm).  The burger is on par with any other notable joints, but you also get an incredible show with it.
"Do yourself a favor and head over to Rick's for their lunch special. I went on a Monday at it made my whole week:)"
The burger is seriously good. I got mine with pepper jack cheese, and it was perfectly juicy and flavorful. There are also six other meal options if an awesome burger isn't your thing. You could spend more at McDonald's (or most other restaurants) for far less quality. When you consider you're also getting a top class show, I wouldn't head anywhere else.
HAPPY HOUR
MONDAY – FRIDAY 11AM – 8PM!
Current Specials
You read that right. HAPPY HOUR GOES TIL 8PM!
As noted, the $6 Lunch Special is insane.  But happy hour is almost as good. Wells drinks/domestic beers are $3.75 and friendly bartenders pour them stiff.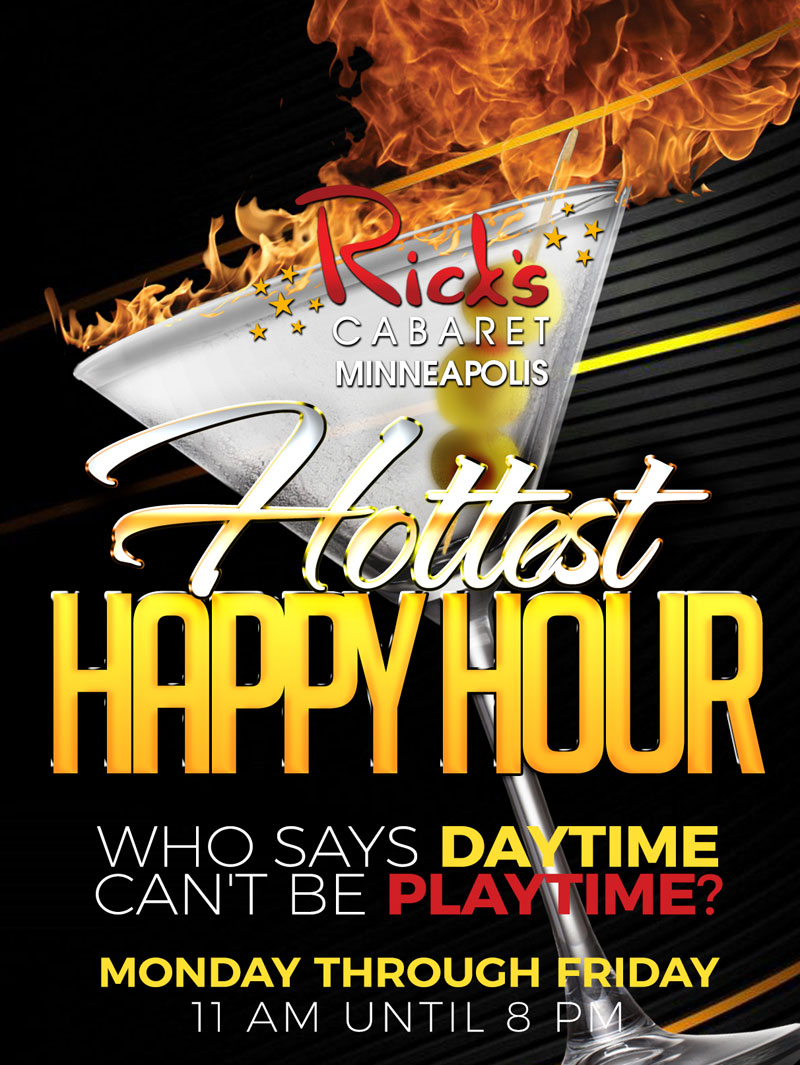 –THRIFTY TIP = FREE VIP EXPERIENCE.
Groups of 5 or more can qualify for the VIP Party.  You have to ask ahead of time for it, but it includes VIP seating, a comped round of drinks, and some free appetizers to share (Weekdays 11am – 6pm)
I did this with friends and had an amazing time. The seats were near the stage and are perfect for watching the show.
RICK'S CABARET
DOWNTOWN MINNEAPOLIS
300 S 3rd St, Minneapolis, MN 55415
Website
Rick's, located on 3rd Ave and 3rd ST, is comfortably situated in the heart of downtown. It's an easy walk, or very short ride, from all the key sights – US Bank Stadium, Target Center, Target Field, and more. The interior of Rick's is classic and comfortable. Big padded seats, and low light. There are a couple of TV's, but there's no way you'll be watching them. Day shift girls might be a punchline at some other joints, but at Rick's they are gorgeous, friendly, and talented. Stay around after work hours for even more jaw-dropping beauties.

Happy Hour til 8pm!
$6 Lunch meals & Show


Hot Girls
Cool VIP-like experience
– Here's the Deal –
Great food, cheap drinks, and beautiful women, all in friendly welcoming environment. Just go already! You'll find that it becomes one of your favorite places.
---