Rincon 38 Foodie Happy Hour
By Matt Dowgwillo - Jun 27, 2016
A small neighborhood wine bar offers a great selection of affordable wines and shareable tapas. A quiet atmosphere and small sidewalk patio make it a great place to meet for friends for a good happy hour experience. A happy hour that gourmets are gonna love and THE BEST CALAMARI!!!
HAPPY HOUR ALL DAY AND NIGHT
This happy hour is highly recommended for vegetarians, foodies, and wine lovers.
Sunday – Thursday. 3-5pm & 9-Close
In Spain, 9PM is when dinner starts. But this is Minnesota and we don't eat that late. And while you might get a truly authentic Tapas experience, at Rincon 38, they call it happy hour.
(you can download our app to always get updated food & drink specials)
GREAT HAPPY HOUR FOOD
Foodies are going to love this chef-driven happy hour. We went the other night and had everything on the menu!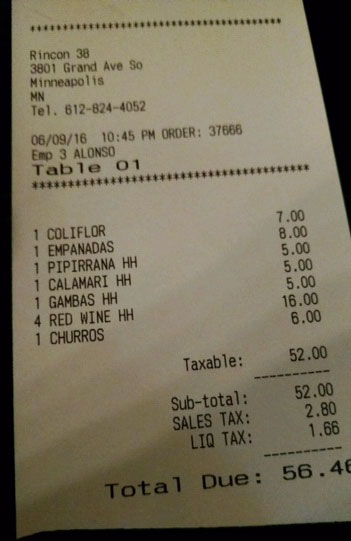 **THRIFTY TIP**
Show up with 4 people and order every tapas on the happy hour menu for a $10 food tab! Rincon 38 does a great job of portioning their tapas (divided/served in 4 pieces so there is no arguing about who gets that last shrimp:)
Here is what we had, listed in order from favorite to least favorite:
THE BEST CALAMARI IN MINNEAPOLIS! – just $5
I love calamari and I've eaten it everywhere. Rincon 38's version of this standard bar plate appetizer is absolute perfection. It's as good as a fancy Japanese restaurant in San Diego without ever having to leave the city.
Rincon 38's calamari is big chunks of squid, lightly fried and drizzled with a cilantro oil. Comes with some kind of chili-aioli. Seriously THE BEST in Minnesota!
---
PIPIRRANA
Happy Hour Price: $5
A Spanish take on a caprese salad; 2 jumbo chunks of tomato sandwich roasted red peppers and topped with sweet balsamic onions and fried goat cheese. The plating and look of this plate is worth $5 alone…then you eat it!
---
ALBONDIGGAS
Happy Hour Price:
Homemade tomato saffron sauce surrounds spicy Spanish meatballs. Served with perfectly toasted bread. Only drawback is there wasn't enough bread to soak up all the sauce! This plate was a meal in itself.
---
COLIFLOR
Happy Hour: $7
This dish reminded me of the poached lamb brain at Saffron. Saffron poached cauliflower is battered, fried, served with cilantro oil and is a totally vegan and delicious tapas!
---
GAMBAS AL ALJILLO
Happy Hour Price: $5
4 jumbo shrimp sauteed in garlicy wine sauce made me feel like I was in Spain!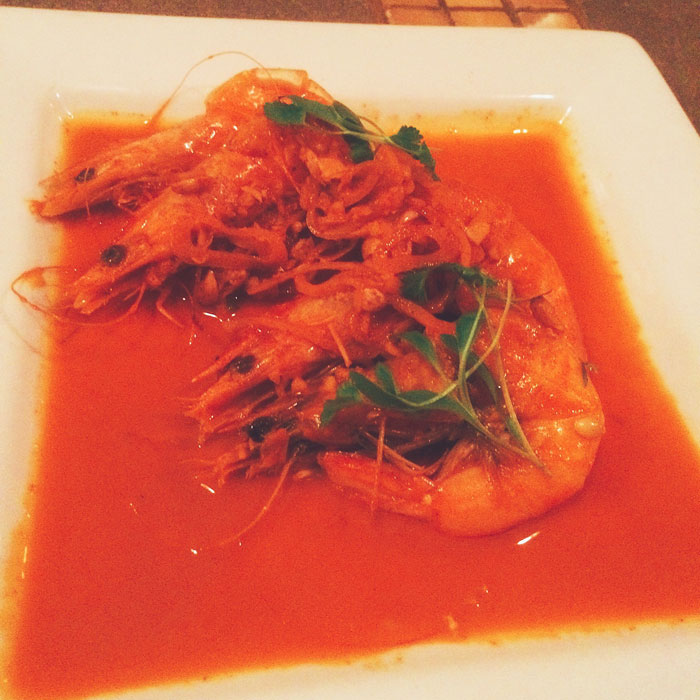 ---
---
RINCON 38
KINGFIELD MPLS
3801 Grand Ave S | (612) 824-4052

All Tapas just $5!
A few items a full meal for 4!


Foodie Presentation
Cool, Chill, artsy vibe
Fun Bartenders
– Here's the Deal –
Matt Says, "Sweet neighborhood spot in South Minneapolis; Order everything and share with a group of 4 (just $10/head)!"
---