The Lotus Uptown
By Jack Sussman - Feb 21, 2018
3pm on a Thursday afternoon the Lotus Uptown was desolate but recovering from a capacity lunch rush. Thrifty Hipster's very own Jack Sussman, and myself strutted into one of their snug booths with one thing one our mind, Pho. A vibrant feel at all hours of the day, Lotus Uptown reeks of beautiful family history and a redolent fragrance of crispy egg rolls and sweet cream cheese wontons permeates to and through the airy open space in which Yoom Nyguen made his mark in early 2017.
Despite recent venues at this uptown building failing, Lotus is thriving.  Mainly due to their late night vibes which includes happy hour, tasty snacks, craft cocktails, an ever flowing pour of Hennessy, Moscow Mules, and eclectic playlist radiant new school tunes. One of my favorite spots at anytime of the day or night, a Minnesotan gem. Besides the Pho, we indulged on several items during happy hour.
Pho:
YUM. I loved it! Super tasteful and herby. They have a small and large size, both of which are really filling and they have different meat options you can choose from (chicken, veggie, beef, pork, etc.)

OYSTER WINGS:
A cosmo of tastes, extra crispy and meaty hints of garlic and sesame oil are apparent in my favorite wings on the menu. Drenched in Oyster Sauce and smothered in Soy, ask for the saturated chili sauce or go nuts with the flaming hot ghost pepper sauce on the side.

Thrifty Tip: Wings are only $5/order on Happy Hour – Or $.80 all day on Mondays!
VEGGIE EGG ROLLS:
The best in town and thats not me being bias.  Crispy, piping hot, chewy mushrooms, crisp veggies, glassy noodles, and perfect dipping sauce…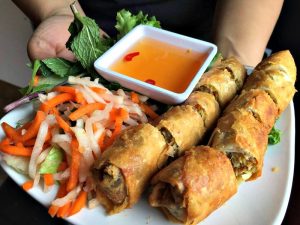 Chicken Fried Rice:
Clean fried rice is hard to come be these days. Most places will leave you leaving needing an IV of H20 due to the abundance of unnecessary soy. Lotus's Fried Rice comes with brussel sprouts, egg, onion, with option of protein. Go with the House Fried Rice if you're really feeling yourself!
Thrifty Tip: Fried Rice is on happy hour!
THE DIABLO- (Beverage)
An intergalactic concoction of mango puree, muddled Jalepeno, vodka and god knows what else. This cocktail sensation is crafted to perfection by Yoom's bar staff. A sweet harsh delicacy that will leave a lingering thai chili punch on your tongue **All ingredients house-made
DUCK EGGS: (Not on the menu)
I love Yoom as he is a great friend and an inspiration but he's also a bully. Just as Jack and I were about to grab our checks and head out Yoom brought out the "dessert". A classic Vietnamese snack, Duck Eggs. We did the whole spiel, cut off the top half of the egg, slurped the juices and spooned out the baby fetus allowing passageway to the yolk (the best part). I put hot sauce on mine which made matters better but yeah… never again. Life is about experiences and I'm glad that experience is over. But hey, to each their own!
HAPPY HOUR + DAILY SPECIALS:
View Current Specials
The specials are awesome.  There are almost too many to count, but check out their listing for full details.
Highlights include Tuesday's Cheap Date night ($35) and Fridays Free Champagne (for the ladies).
Every Day Happy Hour
Food Specials: 3-6pm & 9pm-close
$5 wings (pieces)
Sauces: Sesame, breaded, oyster sauce, sriracha.
$5 wontons
Cream cheese or jalapeño cream cheese
$5 fried rice bowls.
Veggie or Chicken
Drink Specials: Mon-Thurs 3pm-close
$4 rails
$3 domestics
$4 premium tap
$4 house wines

\\

Daily Specials
Happy Hour
Free Champagne Fridays! (for ladies)


Sunday Brunch (Bottomless Mimosas)
Authentic Vietnamese Cuisine
---