Urban Growler: Women Brewing Great Beer
– Women Drinking Beer –
By Katie Jones - Mar 7, 2018
It's about two in the afternoon as I sit and chat with Liz Foster, the event coordinator and former beertender at Urban Growler. We've got a flight between us as deep cut Prince tracks play subtly in the background. As I chat with her and later when I go for the amazing Mac & Cheese (add the bacon, it's worth it) people filter in like the muted sunlight, in ones and twos.  They grab stools or tables, wherever is comfortable. I watch the staff rotate and share a meal and a beer at the bar as they start and end their shifts.  I overhear a conversation about Marvel vs. DC movies and join in easily. I strike up a conversation with the woman sitting a seat down from me and we notice those around us are half men and half women and we smile.  This is a day in the life at the Urban Growler.
URBAN GROWLER BREWING CO
ST. PAUL, MN
 2325 Endicott St, St Paul, MN 55114
LEARN MORE + COMPLIMENTARY BEER
THE OWNERS & BREWERS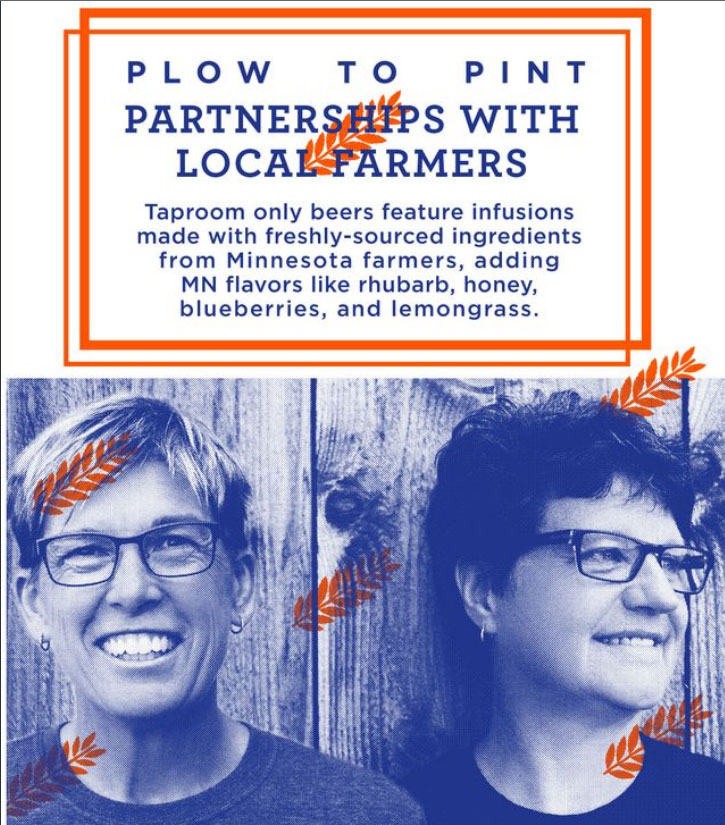 In a male-dominated industry, Jill and Deb, the owners of the first all-female owned microbrewery in MN, have cultivated a safe and inviting space, just like they hoped to. Their slogan "We're Beer for You" displayed on the back of a t-shirt worn by one manager, Tom, is their way of saying come and stay awhile, we're here to be a place where you can take a breath and feel good about the food you eat, the beer you drink, and the people surrounding you, no matter who you are.
URBAN GROWLER'S BEER
Few breweries choose to also serve food, partly so they can focus on making great beer and making great food to match is a difficult task.  At Urban Growler they've gone above and beyond in that task.  And they've made it easy to enjoy both with their exceptional set flight and offerings of different sized pours for every beer.
UG's Beer Flight = Value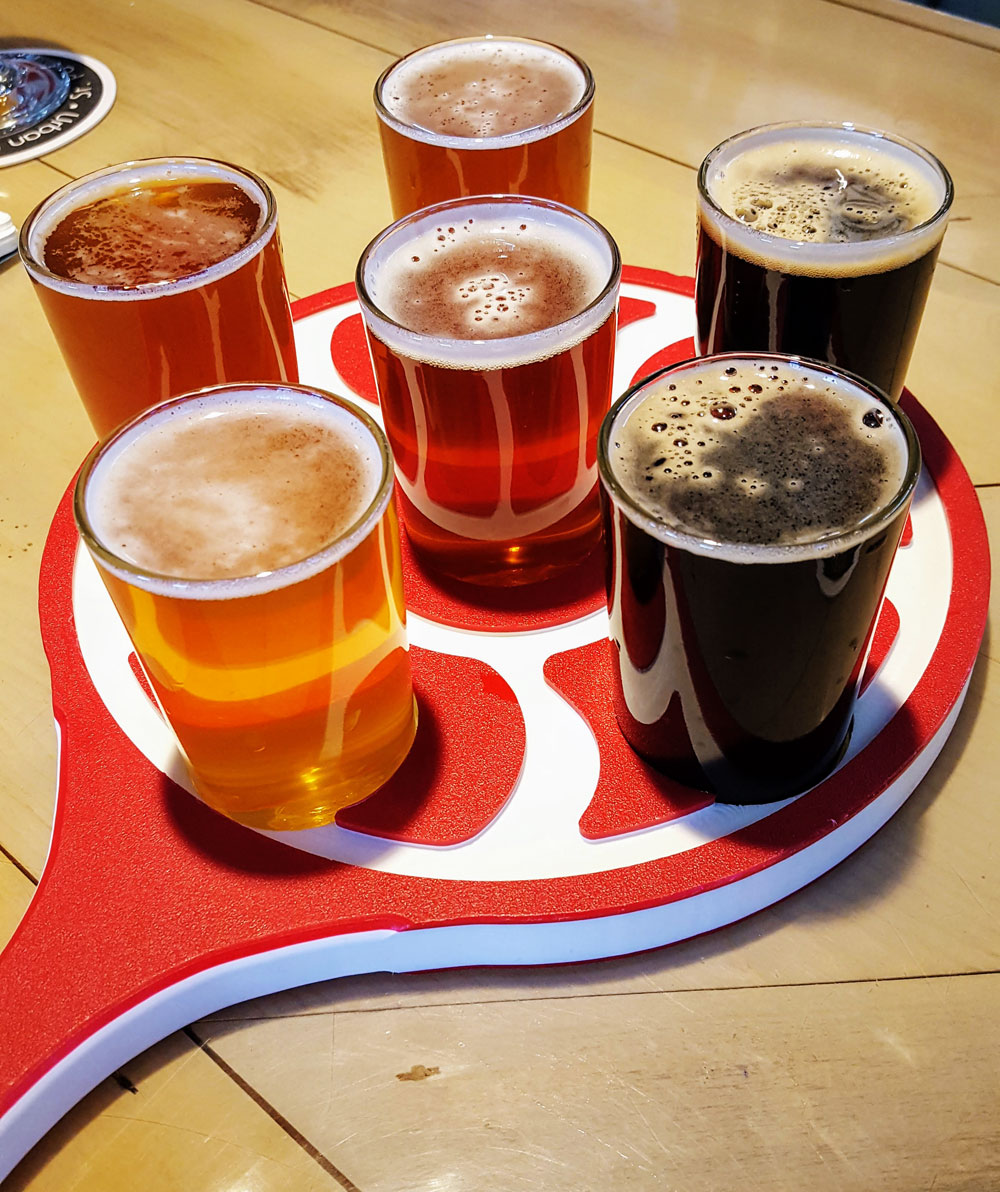 Any time I go to a new brewery, or haven't gone to a brewery enough times to have a "favorite," I'll order the flight. Beer, to me, is meant to be shared and it's usually cheaper than getting a couple of pints.  The Urban Growler has a set flight of their six flagship beers (5oz) for $14.50. 
Each beer shows mastery of style and every major style is represented with an Urban Growler Twist.  In the middle? The Big Boot Rye IPA; if you think this tends more to a malty sensibility you're right, Deb (the original brewer) is a malty gal.  But that doesn't mean the IPA won't leave your hoppy senses satisfied.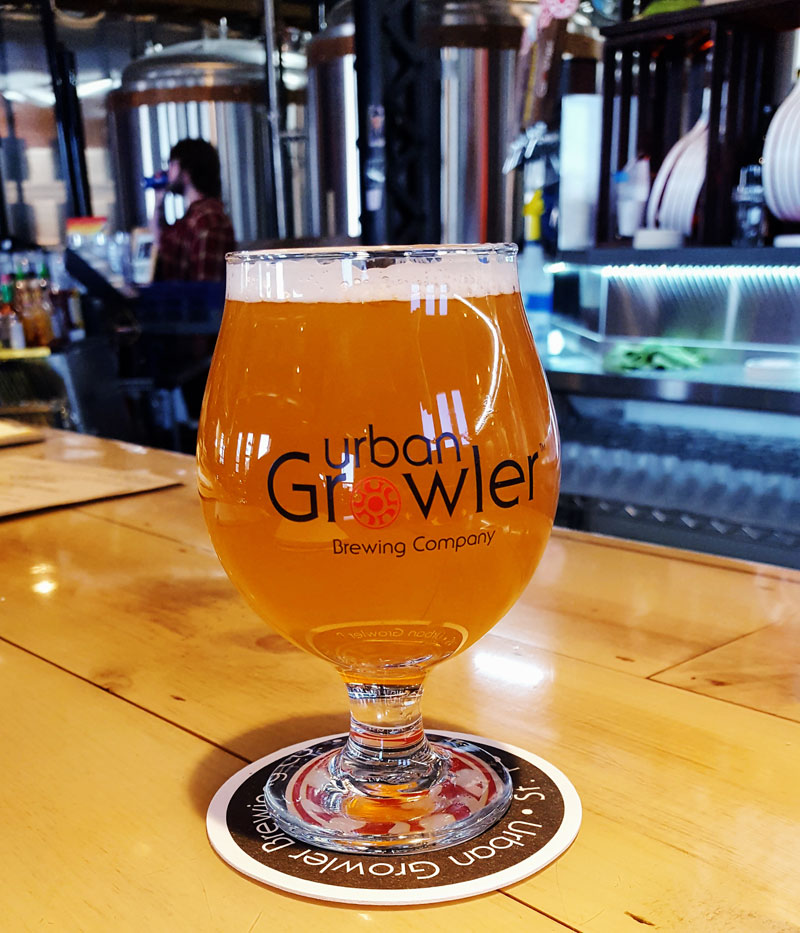 My Favorite Beers at Urban Growler?
The highlights for me were the Cowbell Cream Ale and the Delovely Porter.  The Cowbell is malty throughout and fizzy enough to make it refreshing and compliment the sweet aroma.  Think of it like a cream soda, but with beer, which of course makes it better.  
The DeLovely Porter in many ways is the chocolate version of the Cowbell.  Malty, sweet and a carbonated kick to keep it from going to far to the dark side.  And what's great is you can get a balance in The Force with the Dirty Cow which mixes the two equally! Both beers come with an additional variation: a Lemonbell combines Cowbell with Urban Growler's housemade lemonade and a Wake-up mixes a shot of local True Stone cold press coffee into a Delovely.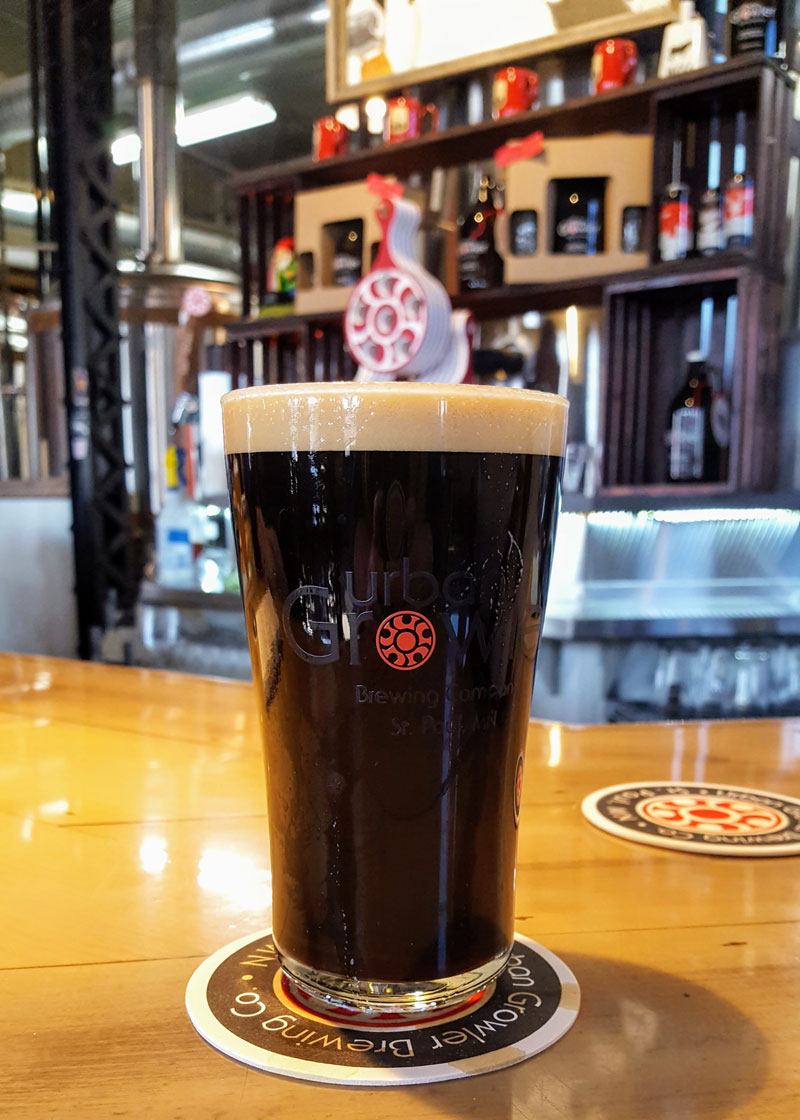 When I visited I also got to try their newly released Oatmeal Stout and their seasonal White IPA. I am a huge fan of oatmeal stouts and this didn't disappoint.  My drinking buddy and event coordinator for UG, Liz, was drinking a tulip of the white IPA and offered some, and I was met with crisp and smooth IPA with a malt and Belgian treatment that was nicely balanced with the hops Citra and New Zealand Pacific Jade.  
AWESOME PUB FARE
Few breweries choose to also serve food, partly so they can focus on making great beer and making great food to match is a difficult task.  At Urban Growler they've gone above and beyond in that task.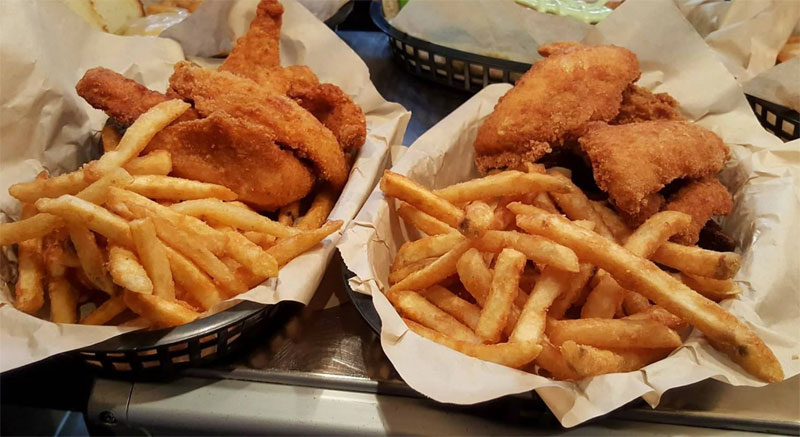 The selection is pub offerings but made exceptionally well.  Sandwiches, burgers, tasty fries and tots are the bulk of the select menu and given the UG special treatment, but some of the stars of the show is on their specialty list, like the Mac & Cheese previously mentioned.  Filling, creamy, with the bread crumbs on the top, the cheese is actually a beer-cheese made with Cowbell Cream Ale.  This gives it a depth of flavor and all the more enticing when you add the bacon.  
They also feature "drunken" chicken taquitos, wings, and desserts, all of which have a beer cooked element. The word I would for all of it is decadent.  Oh, and did I mention that the beer and the food use fresh ingredients sourced locally? And they have Vegan and Gluten free options? Yep, Urban Growler still manage to welcome everyone to their table with exceptional pub food and beer.
GREAT ADVICE FROM WOMEN THAT WORK THERE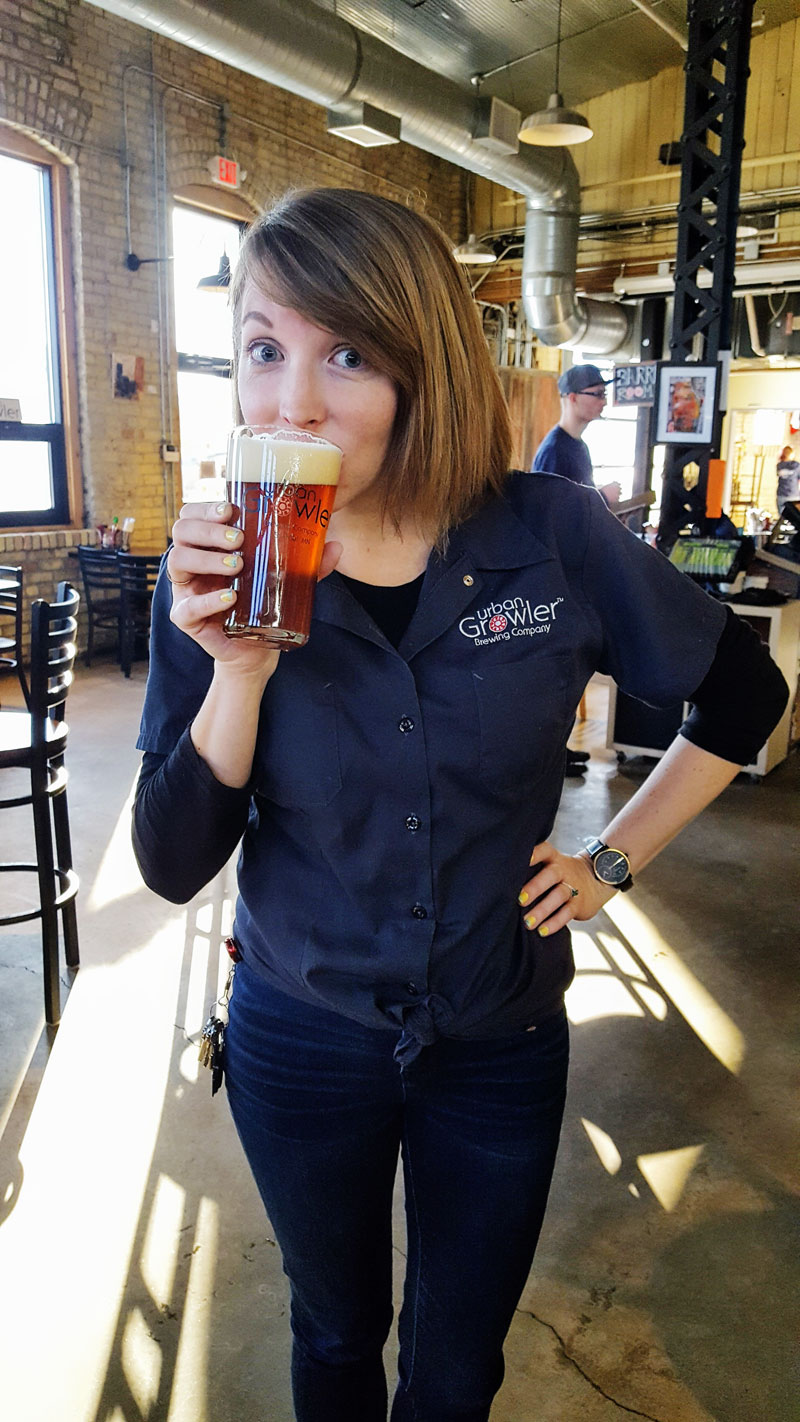 Liz was kind enough to come and have a beer with me and tell me how she started working for Urban Growler.  
Liz has a degree in History, so how she got to event coordination for UG is interesting but very simple.  She was living in Duluth when her husband had a job change that brought him down to the cities. When she realized she wasn't sure what her next career move would be he encouraged her to write down five of her favorite things and see what came of that. Beer was at the top of the list.  After trying to get a job with several other breweries she walked into Urban Growler one day and found her new home. She's been with them for three years now, working first as a beertender, then taking on a side role as assistant brewer.  
With any small business you wear many hats as a full-time employee and she started working on the events at the brewery as well.  She realized it would be a better fit for her to dive deeper into the events than pursuing more schooling to be a full-time brewer but she values her time in all three roles. It allows her to understand so much more about Urban Growler on a whole and help where needed.  "Beer is unifying" she states, referencing the slogan "We're Beer for You." To her, the motto means that Urban Growler can be here for you with whatever you need, that no matter who you are Urban Growler can "compliment your life." This commitment to be a place for everyone creates a community and deepens the relationship for staff and patron alike.  
LIZ'S TIPS WHEN VISITING URBAN GROWLER
One thing you won't find at Urban Growler is a Happy Hour ("Boo!" Says ThriftyHip :-).  According to Liz this is because they want to price things fairly to begin with and don't want to undersell those bars and restaurants that they distribute to as well.  
They more than make up for this with free community events, trivia nights, Paint & a Pint, and deals with their amazing food to compliment your beers.
Two for Twosday get's the thumb's up from Liz as the best deal at UG.  It comes with two pints and an appetizer for $15.00.  She also mentions the weekly Friday Fish Fry which gets nominated for best fish fry in the Twin Cities.  Though she knows the medal will always go to NE's Anchor Fish and Chips, Liz seems to think Urban Growler gives them a run for their money.  Urban Growler is always family friendly and allows leashed, well behaved dogs on the patio when it opens.  

Two for Twosdays $15 (2 Pints + Appetizer)
6 Pour flight for $14.50
Free Events and Trivia


In St. Paul in the industrial area by University Ave (Free Parking)
Dog-Friendly Beer Garden Patio
Live Music and Bands
– Here's the Deal –
Urban Growler is the 21st Century real deal "Cheers." They believe in being a part of the community and that community means everyone gets to have a place to be themselves and enjoy great beer and quality food.  
---