Yoga and Beer? It's Time For You to Enjoy the Best of Both Worlds
By Jack Sussman - Apr 7, 2017
Stretch then cheers! Meet Yoga instructor, Bayli Vandelanotte of Bend and Brew, who's teaming up with Breweries to deliver a clever way to reduce stress and get healthy at the same time: yoga in breweries. 
I have dabbled in yoga at various clubs and studios, but when the opportunity arose to attend a yoga session in a brewery, I knew I had to check it out!  Bayli offers weekly classes at Wicked Wort Brewery in Robbinsdale. I participated in a session recently and had a great experience so I wanted to learn more about Bayli's interest in offering her yoga classes at Wicked Wort Brewery.
As a neighbor and visitor of Wicked Wort, Ms. Vandelanotte was looking to expand her teaching opportunities. She was familiar with other breweries offering yoga at their places and thought Wicked Wort would be a perfect place for her to do the same. Bayli approached Amanda Carlyle, general manager of the brewery, and both agreed yoga and beer made perfect sense. Classes have been held weekly since Labor Day 2016.
Who Goes?
The clientele is a combination of yoga and beer lovers curious of how the two play out. Whether it's been a couple going out for a date night, or a group of pals looking for something to do, Bend and Brew has been an opportunity to gain new customers for both businesses as well. Recently, Bayli has noticed a larger male population attending her classes.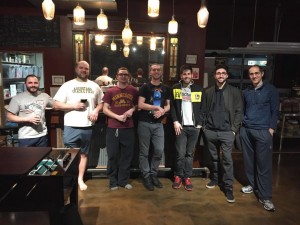 An interest has peaked in yoga because of the novelty of it being offered in a craft beer brewery, resulting in many first time customers becoming regulars!
Bend & Brew Instructor: Bayli Vandelanotte
Bayli is familiar with all levels of yoga. She got her Bachelor's of Science in Exercise Physiology from Gustavus Adolphus College and 200 hour RYT  from YOGAFIT. At Bend and Brew, she practices Vinyasa style, which is a method of yoga in which movements form a flowing sequence in coordination with a breath. She made it a priority to offer all levels knowing that her clients come from various backgrounds of participation. She wants her environment to be a nonjudgmental space where people can feel at ease and welcomed, which is exactly why Wicked Wort, family operated and owned since 2015, is the perfect space for her classes.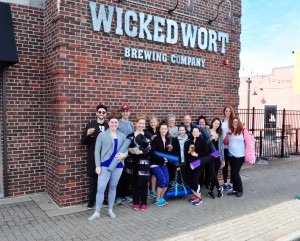 By the way, Bayli's favorite beer at Wicked Wort is the Belgian Strong!
WICKED WORT BREWERY
ROBBINSDALE, MN
4165 W. Broadway Ave. / (763) 504-9977
Bend and Brew: Mondays 7-8 PM and most Saturdays starting at 10 AM.(Check Thrifty Hipster featured events for updates on class)  Each class 10$ cash or you can venmo her at the door. Afterword's, drinks are discounted at 5$ per pint or 10$ per flight.
---