Now Open! Hamburguesa's El Gordo
– Award-Winning Tacos & Authentic Mexican Street Food –
By Matt Dowgwillo - Feb 6, 2018
El Gordo's may just be 1 of our most successful food trucks in Minnesota.  It is the kind of place you can feel good about supporting. And what started as a run-down food truck in Saint Paul has become a well-known, authentic Mexican brand frequented by Latino transplants and Minnesotans alike, with 2 brick and mortar locations, including a new location in South Minneapolis.
We stopped by their new Cedar Avenue location in Minnesota as a tip from a reader (Thanks to Kristi S. for the tip!) who recommended it. You gotta check it out!
– recommend your favorite happy hour.
There was a pretty large line when we were there, and it moves pretty slow, but it's because many of the items are made entirely from scratch, they have large portions, great prices, and it's so worth the wait!
El Gordo's Burgers
SCORECARD AVG: 8 of 10
The highlight and namesake of El Gordo's is the Burger.  Just remember to grab lots of napkins, you'll be struggling to keep the burger together!
$9 Single / $12 Double  (each patty approx 1/2 lb)
The burger is like one you've never had outside of Mexico. It's a take on the modern Burger; salty, cheesy, crisp meaty edges, shredded iceburg lettuce and then dressed up in true Mexican style with a thin slice of ham, spicy mayo, tomato, bacon, and served with a side of fried onions and spicy peppers.  You also get some green salsa to dress it further; and at this point, you'll never get it in your mouth.
My girl really liked the chicken burger, made with 2 chicken thighs for just $9. It was well-seasoned and perfectly grilled and moist and topped with all the fixin's just like the Burger!
I really liked it too; a healthier, less destructive option to the burger that required maybe 2 less napkins to eat.
Tacos (with Hand-made Tortillas) & Dogos
TACOS
Award-winning tacos made traditional ($2.50) or with cheese/crema ($3).
The real highlight on these was the tortilla itself; a hand-pressed and fresh option made to order in house, making it a little bigger than your standard street taco. The meat was stuffed in to the brim and was well trimmed and seasoned too.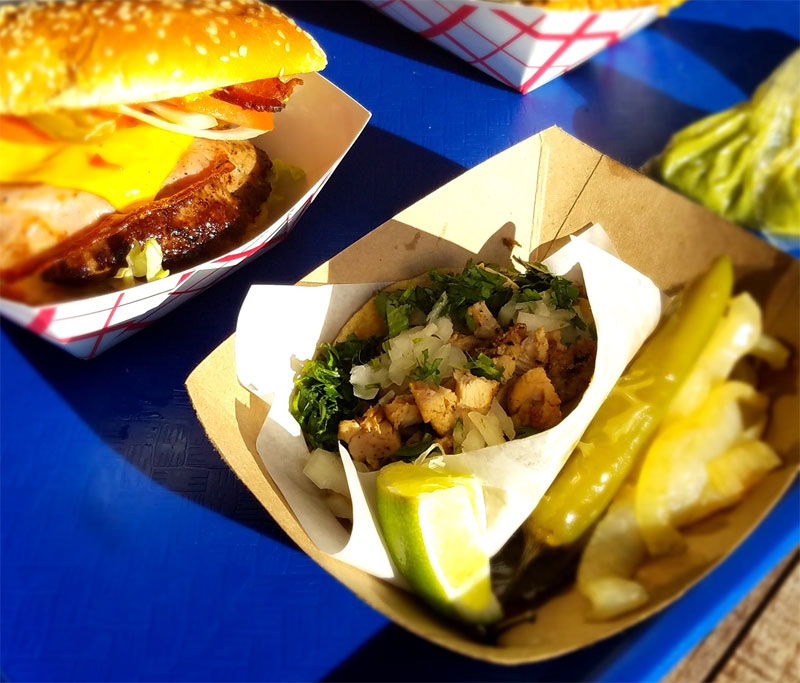 DOGOS – $4 MEAL
Sadly we didn't have enough room to try a dogo, but these are served just like in Mexico, topped with enough fried onions, avocado, cheese, and bacon to make it near impossible to cram into your mouth. We will be back soon to try them!
Hamburguesas El Gordo
Authentic Mexian Street Foods
EL GORDO MENU
Great prices, huge portions… "Autentico Sabor Norteno"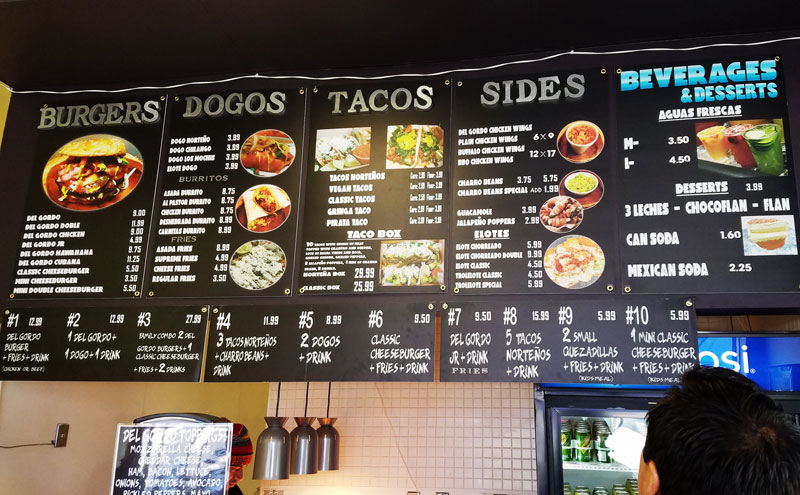 $9/12 = Jumbo/double Burgers LOADED
Taco Box


Authentic Mexican Foods
Started as a Food Truck
– Here's the Deal –
Worth the wait, $9 loaded burgers and great food
---